As we bid a fond farewell to the summer sun, there's no denying that the end of the year is just around the corner. This means it's time to start thinking about New Years' Eve; that occasion when we bid goodbye to 2019 and welcome the new year.
New Years' Eve is often a time of reflection on the year we've had; the friends we've made, the success we've achieved and the memories we've created. It can also be a time of excitement and goal setting as we look to make 2020 even better.
Of course, New Years' Eve is also the perfect time to enjoy a glamorous party, preferably with our nearest and dearest. It's a time to put on your most fabulous outfit, raise a glass of your favourite drink and bring in the New Year in lavish style.
What better way is there to welcome in 2020, than to spend it in stunning Courchevel. Not only is it one of the most magically beautiful places on earth, but it also boasts a dazzling array of glitzy bars, restaurants and nightclubs to enjoy.
Whether your idea of the perfect New Years' Eve is a relaxed, yet indulgent meal followed by quality family time at home, or perhaps watching night become morning alongside the well-heeled crowd on the dancefloor, Courchevel is ideal.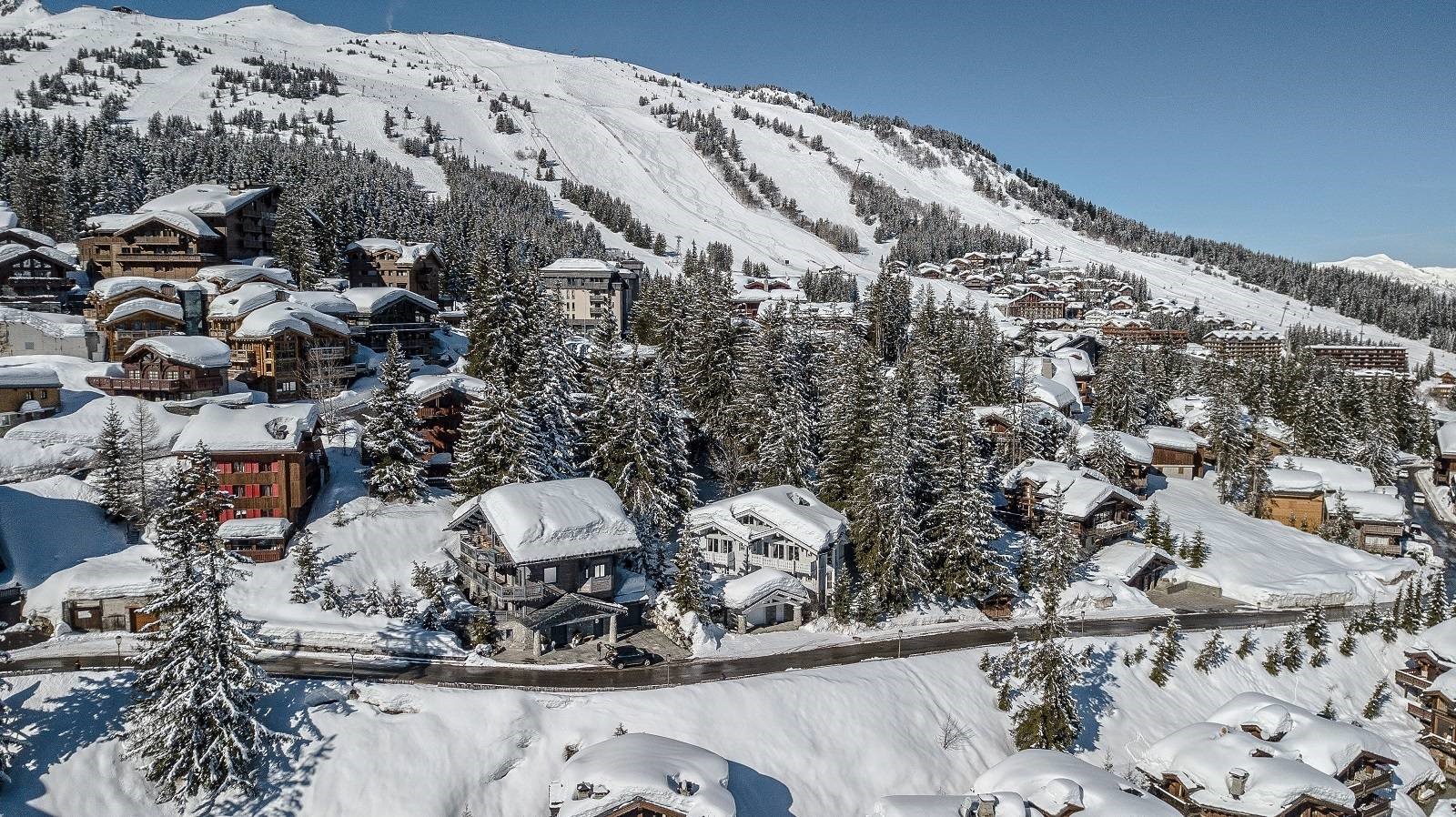 Where to stay for New Years' Eve in Courchevel
There is no better place to stay over the New Years' period than in a luxury chalet in Courchevel. Those in Courchevel are amongst the best chalets in the world, offering you unparalleled comfort, style and luxury.
With luxury ski chalets in Courchevel, you'll have every amenity available to you. From indulgent hot tubs to cosy open fires, there is no better home base for a wonderful New Years' Eve. Plus, most offer between three and eight bedrooms, meaning they are perfect if you are travelling as a group or larger family unit.
Plus, you'll be within close proximity to all the highlights mentioned, as well as everything else that Courchevel 1850 and 1650 have to offer.
If you are planning to book a luxury chalet in Courchevel for New Years' Eve, we highly recommend booking as soon as possible. Many properties have already been snapped up, with more bookings coming in daily. At A-List Villas, we'd love to help you find your ideal ski chalet – so do not hesitate to contact us.
Luxury ski chalets ideal for New Years' Eve in Courchevel
Not sure which chalet to book? Here are some of A-List Villas' best ideas, which are sure to be hot property for New Years' Eve 2019.
Chalet Corinne
If you close your eyes and imagine what a true winter wonderland looks like – it's probably something like this stunning luxury chalet in Courchevel 1850. On the outside, this looks like many other charming luxury chalets in the Alps – with its beautiful wooden exterior and apex frame. Step inside, however, and you'll realise there is much more to this exquisite six-bedroom property.
The interior has been beautifully decorated, with every piece of furniture and artwork carefully hand-selected to create a charming yet elegant atmosphere. Deep hues including rich purple and mauve add to the grandeur, while it retains the warmth of a family home.
Features including a dazzling indoor swimming pool as well as a jacuzzi, steam room, sauna and gym add to the convenience. There's also a massage room – perfect for resting off any tiredness from New Years' festivities.
The property is located within easy walking distance of the amenities of Courchevel 1850, although transport is also available. Another fabulous highlight of this property is that it is a ski in, ski out chalet – meaning you can be on the slopes in mere seconds.
If you're looking for an utterly luxurious place to spend New Years' Eve 2019, take a closer look at enchanting Chalet Corinne.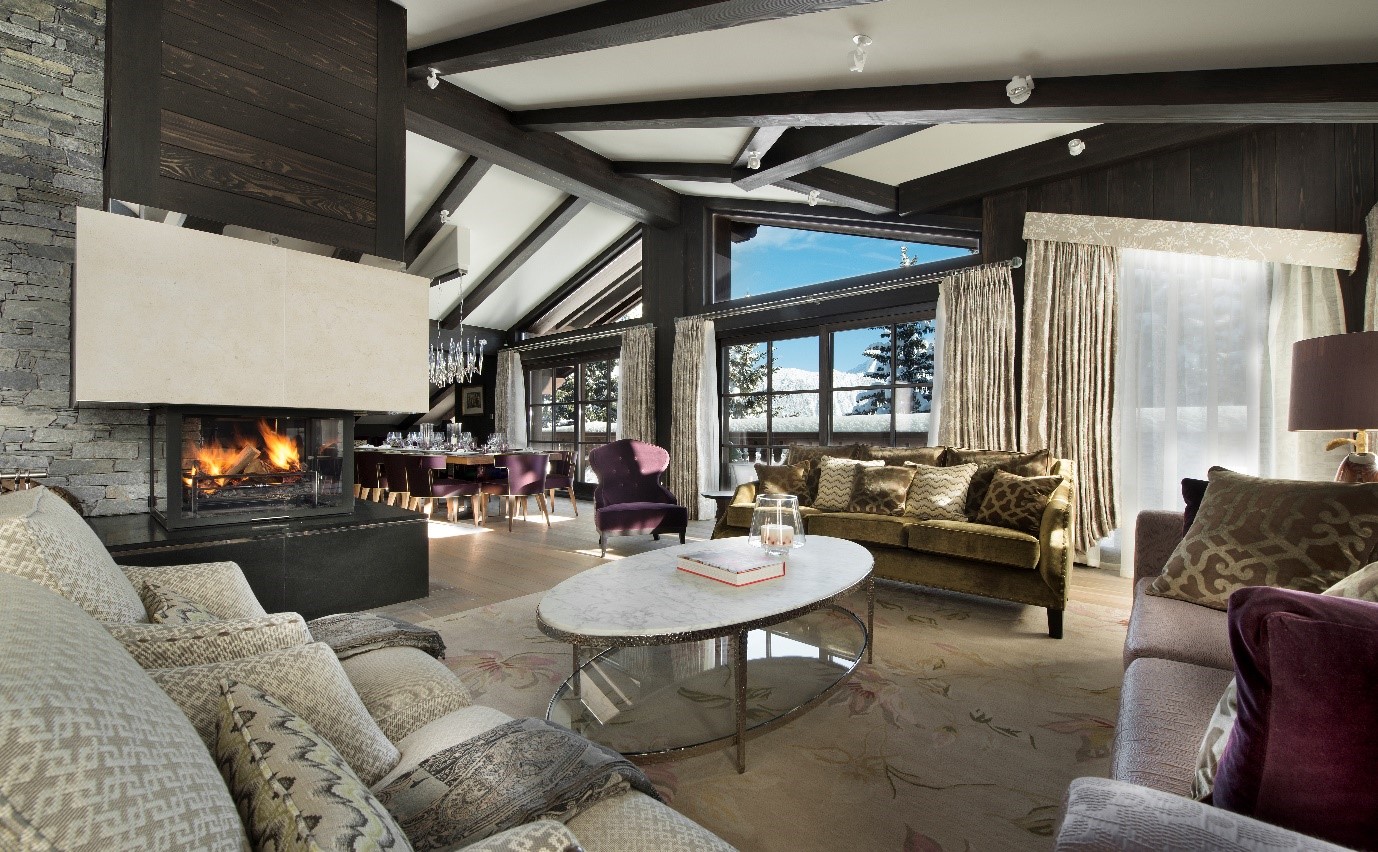 Chalet Bastidons
New Years' Eve spent in the stunning Chalet Bastidons certainly means a week (or more) enjoying all the finer things in life. Inspired by Alpine style and true to the charming traditional style, Chalet Bastidons is a true luxurious paradise inside. It is particularly ideal for entertaining and those who enjoy living life in style.
Like the exterior, the interior décor of this luxury chalet weaves traditional charm and modern style and elegance. Rich hardwoods and bespoke furnishings create a totally luxurious ambience, while spacious shared sitting areas provide plenty of space to gather with family and friends.
If you plan to do some entertaining on New Years' Eve, look no further; Chalet Bastidons enjoys its own cocktail bar and chill-out lounge. May we suggest it as the perfect spot for some pre-party drinks? Other features of this villa that we love include the incredible indoor swimming pool, jacuzzi, games/billiard room and cinema room.
While there are plenty of amazing features of this Courchevel luxury chalet, chances are you won't spend New Years' Eve tucked away inside. Helpfully, Chalet Bastidons is an easy walk to the centre of the Courchevel 1850 village, with its incredible bars, restaurants and boutiques.
Oh, and did we mention this is also ski in, ski out? Perfection.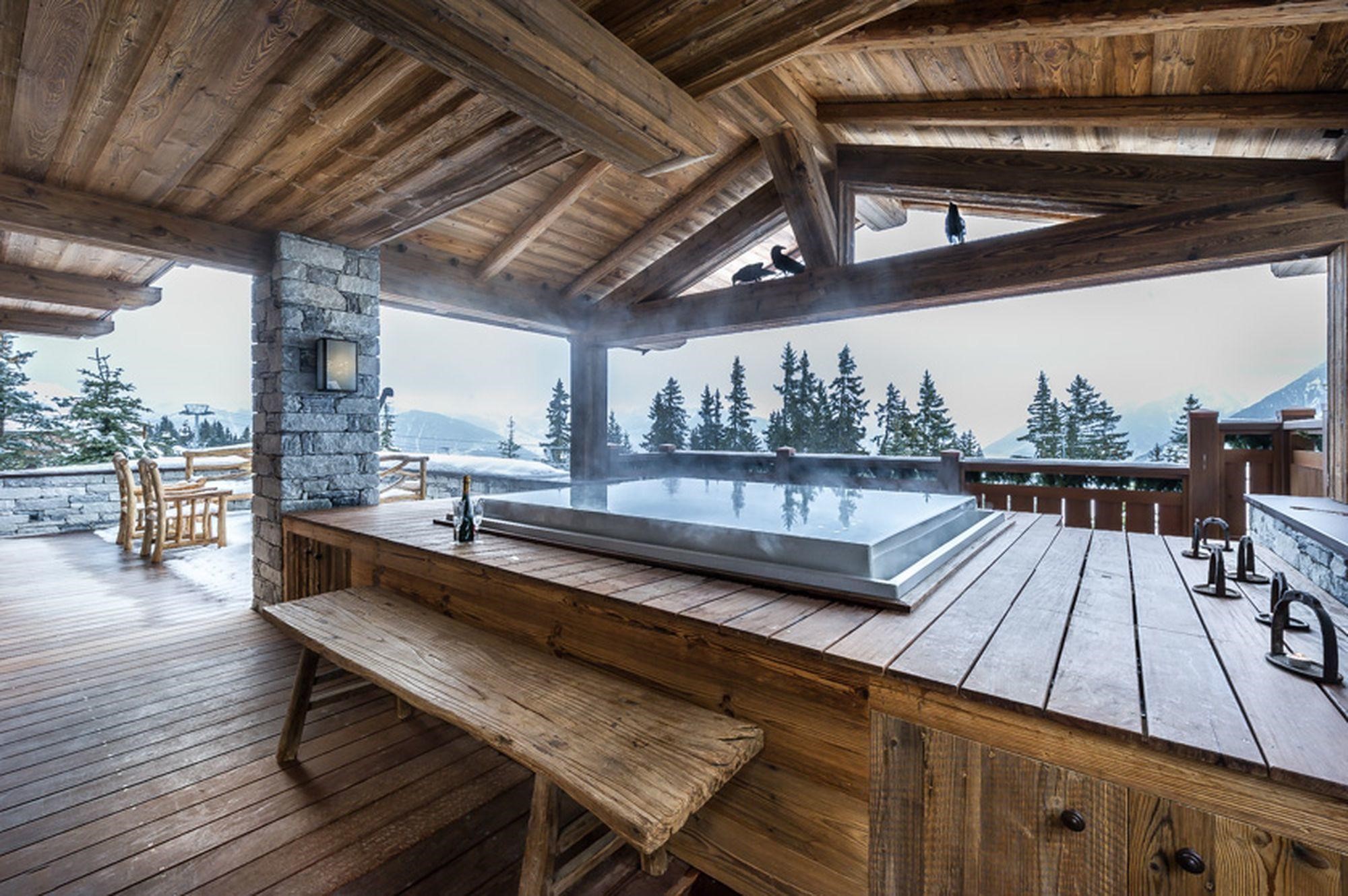 What to do for New Years' Eve in Courchevel
Looking for ideas for how to say goodbye to 2019 and welcome in 2020 in style? Here are our top picks for where the well-heeled crowds will be.
As with our luxury chalets, we recommend making bookings as soon as you can. This will ensure you get the best seats available.
Chalet des Pierres
This Courchevel classic is an ideal venue for a sumptuous New Years' Eve dining experience. It is boasting an incredible location with panoramic mountain views and a stunning ambience. We absolutely love Chalet des Pierres.
Inside, the décor is elegant, and the welcome is warm. There is also a south-facing terrace. Although things may be frosty outside you will still be toasty warm, as patio heaters and blankets keep you warm – as does the divine food. Don't miss the stunning desserts – after all, if there was ever a time to indulge with a devilishly good dessert, it's in Courchevel on New Years' Eve.
Le Cap Horn
Although this is one of the most popular restaurants at Courchevel 1850 altitude, it still feels a bit like a cosy, hidden hideaway. Eclectic yet perfectly curated décor, elegant furnishings and an exceptional menu all add to the elegant charm.
With chef Eric Tournier at the helm, Le Cap Horn has developed a sumptuous menu that is perfect for a stunning New Years' Eve dinner. Perhaps even better is the extensive and carefully selected wine list, featuring divine vintages that pair exquisitely with the food. A DJ caps off the fabulous atmosphere – so we're sure this will be a hotspot come New Years' Eve.
These are just some of the fabulous options available if you are planning to spend New Years' Eve in Courchevel. We'd love to assist you to plan the perfect celebration and are always available to assist with finding the perfect luxury chalet, or with suggestions for exquisite places to visit. Contact us today and let A-List Villas assist you to bring in 2020 in elegant and luxurious style.