The Best Ski Schools in Courchevel
If you have any interest in skiing, chances are that you have heard of Courchevel. The famed Three Valleys area is the largest ski area on earth, and the skiing is almost unparalleled. So, it's no surprise that some of the world's best ski schools are located in Courchevel.
Whether you're a total beginner looking to try skiing for the first time, or an advanced skier looking to learn some new tricks, the best ski schools in Courchevel will help you do it. They all offer exceptional service, brilliant guidance and the opportunity to learn something new – all while making amazing memories while doing it.
So, to help you hit those amazing slopes with total confidence, today we'll be looking at the best ski schools in Courchevel.
Commonly asked questions about the best ski schools in Courchevel
Before we begin looking at the best ski schools in Courchevel, let's answer some common queries about the ski resort.
Do I need to go to a ski school in Courchevel?
If you are a beginner who is looking to learn to ski in Courchevel, we highly recommend that you get some instruction from an expert. Skiing and snowboarding are fun, safe and exciting – when done right!
Without instruction, you're likely to be frustrated and may even risk injury. By contrast, an instructor will teach you the basics and make sure that you have an amazing time in Courchevel.
Ski schools in Courchevel are also suitable for more advanced skiers and snowboarders. We can often pick up bad habits even without realizing it, and some individual instruction can help address that and improving your skiing.
Plus, since Courchevel is a playground for many of the world's best skiers, the ski schools can help even advanced skiers really take things up a notch through careful instruction.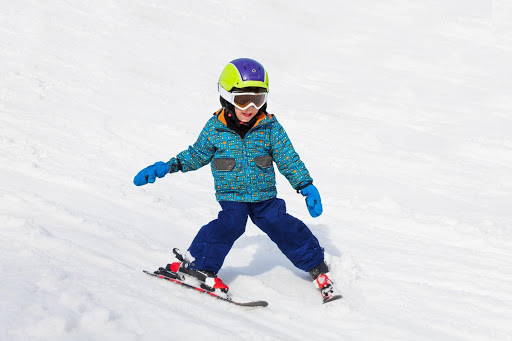 Is Courchevel suitable for beginner skiers?
Many people may dream of visiting this winter wonderland but worry that skiing will be too advanced for a beginner, even with some lessons.
Not so! Courchevel is an excellent place to learn to ski, no matter your age or confidence. The Three Valleys (Trois Vallées in French) area has over 150 kilometers of pistes, including 23 green runs, which are the most beginner-friendly.
Courchevel is so used to supporting beginner skiers that they have even made their most beginner-friendly lifts free. This includes Bellecôte, Etoiles and Cospillot.
Add to this the fact that many of the world's best ski instructors and schools are in Courchevel, and you should feel totally confident as a beginner skier in Courchevel. Even if you've never even laced up your ski boots before, chances are you'll be gliding down the mountain in days.
The best ski schools in Courchevel
Hopefully, you're now feeling inspired to begin learning to ski in Courchevel. If so, you'll want to find a ski school in Courchevel to help show you the ropes. An experienced instructor will help build your confidence, teach you the techniques needed, and generally add to your experience of skiing in Courchevel.
Here are some of our top ski schools in Courchevel.
The best ski school in Courchevel for beginners – New Generation (Courchevel 1650 & Courchevel 1850)
If you've visited any of the other top ski resorts in Europe, you may be familiar with New Generation. They offer top-quality ski instruction at many of Europe's top skiing areas, including Chamonix, Méribel and, of course, Courchevel.
In fact, they have two locations, one in Courchevel 1650 and one-up the mountain in Courchevel 1850. So, wherever your Courchevel luxury chalet, apartment or hotel is, you'll never be far from this ski school.
New Generation offers both group lessons and individual tuition so that you can learn in whatever environment makes you feel most at ease. Whichever you choose, you can be assured you'll be receiving top-notch lessons from one of the world's premier ski schools.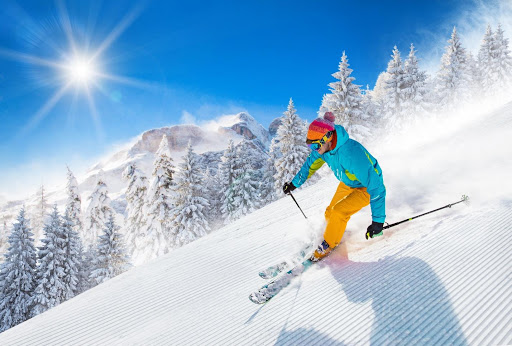 The best ski school in Courchevel for children – Ecole du Ski Français (Courchevel 1850)
If you're looking for the best ski school in Courchevel for children and young skiers, then Ecole du Ski Francais is a great choice. While they offer instruction to beginners of all ages, their child-friendly programs are especially highly regarded.
Children as young as three are welcome to start learning to ski in a safe, fun and age-appropriate environment. Teenagers, on the other hand, are sure to love meeting other skiers and improving their own skills during group lessons. Private tuition is also available for all ages, including adult beginners.
The instructors are at ESF are amongst the world's best and are particularly experienced in helping children learn to ski. This school is also excellent if your youngster is intermediate or advanced, and looking to improve their skills.
The best ski school in Courchevel for intermediate/advanced skiers – First Tracks Ski Coaching
It's not just new skiers who can benefit from some ski lessons in Courchevel. Even those who've been gliding down the slopes for years can still benefit hugely from some extra tuition. For those who already have a bit of experience under their belt, First Tracks Ski Coaching is a great option.
While First Tracks also offer lessons that are great for total beginners. Their individualized approach is ideal for more experienced skiers. Whether you are just looking to correct the bad habits you've picked up over the years, or take your skiing to the next level, they can help.
First Tracks is a small company, but they bring a wealth of experience. Headed up by a former member of the British ski team, this company really knows their stuff. So, if you'd like to greatly improve your skiing while in beautiful Courchevel – this is a great choice.
The best ski school in Courchevel for snowboarding – Supreme Ski and Snowboarding
While skiing is a popular past time in Courchevel, there's no denying that snowboarding has plenty of fans as well. So, if you'd rather shred the slopes on a snowboard rather than on two skis – don't worry, you'll be well taken care of in Courchevel.
One of the top ski schools in Courchevel for snowboarders is Supreme Ski and Snowboarding. While they are great for skiers as well, we love that snowboarding gets just as much love from Supreme. They've been running lessons in Courchevel for over 27 years. Notching up more than 100,000 taught hours – so you can be assured of their excellent quality and instruction.
Whether you're looking to give snowboarding a try for the first time, or you want to improve the skills you already have, then Supreme Ski and Snowboarding is a great choice for a ski school in Courchevel.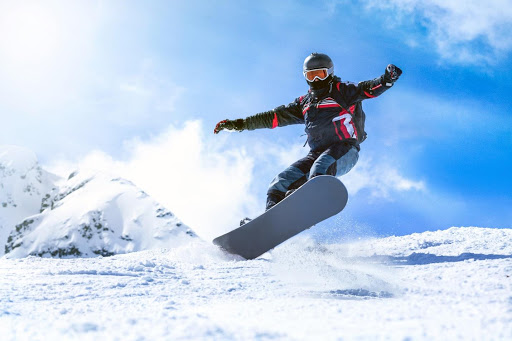 The best ski school in Courchevel for off-piste skiing – SnowLimits
Given that Courchevel offers hundreds of kilometers of ski pistes, there's always a new run to try. However, there's still the call of discovering something new and exciting off-piste. So, if you're looking for a ski school that isn't afraid to go beyond the well-trodden path, then you'd best check out Snowlimits.
In addition to general lessons, Snowlimits specializes in taking guests for unforgettable off-piste and helicopter skiing adventures. As their name suggests, there are no limits to the kind of skiing you can enjoy in Courchevel.
This Courchevel ski school offers exceptional ski instructors as well as a small group or private tours. So, if you're wanting to push yourself even further in Courchevel – then check out Snowlimits!