Shopping on your vacation in Courchevel is more of a prerequisite than a treat. Taking some time off the slopes to rejoice in the comfort of high-end ski Chalets is no doubt a dream come true yet, nothing beats the joy of shopping, collecting a few designer labels and souvenirs for remembrance. Courchevel offers opportunities to make your stay an unforgettable one, whilst facilitating the need to exploit your desire for luxury shopping.  
Away from the labels, designers' shops and brand names, every visitor penciling down France in their travel journey look forward to discovering the signature delectable markets, delicious patisserie and succulent wines. Once a week, a small market held in 1850 and 1650 has around 20 stalls of regional artisans displaying, handmade art, clothing, jewelry, meat, cheeses and local produce ready to be enjoyed. Walking through the market is a unique experience as the vendors passionately and theatrically demonstrate why their merchandise is unique and rare.
Doux Joallier is the Chaumet retailer who carries a large selection of top of the line watches and jewelry in the heart of Courchevel 1850 next to the office of tourism. This shop welcomes you to discover classic timepieces from Cartier, Rolex, Breitling and Mont Blanc. They carry designer jewelry from The London Jeweler known for their British style, glamorous settings and the finest gemstones. The London Jeweler is a popular choice for royalties and the elite group of the world due to their outstanding excellence. Doux Joaillier offers Chaumet gems crafted from diamonds, gold, platinum and specializes in rings, necklaces, wedding bands, watches, bracelets, pendants and earrings for the pleasure of the luxury connoisseurs.  Plan your next visit to Doux Joaillier and treat yourself to a highly valuable piece of jewelry to memorize your joyful stay in Courchevel.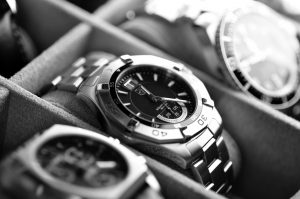 Shamballa Jewels jewelry is a creative concept, embedded within the ancient Eastern Art and Nordic design philosophy. The collection was brought by two Danish brothers Mads and Mikkel Kornerup, wanting to express the spiritual path exhaled from the mythical Shamballa kingdom, into a beautiful and profound collection of earrings, necklaces, bracelets and rings. The famous music artist Jay Z was the first celebrity who's been enthralled by this unique concept, inspiring him to order custom pieces dedicated to his vision and inner peace. Since then, royalties and Hollywood personalities are eager to carry the Shamballa star charms, as a solidarity piece of enlightenment, peace, tranquility, mindfulness and oneness. Shamballa jewelers aim to stabilize the world with a unique experience that goes much beyond simple luxury.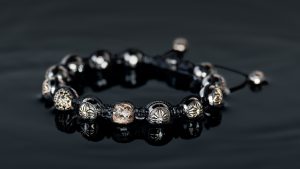 Courchevel 1850 has an array of elite boutiques line up in the heart of the city center. Your first stop is the French house Louis Vuitton store, where you will privately have a front seat to the latest collection of luxury handbags, shoes, luggage, accessories and much more. For the Louis Vuitton collectors, this is a store you will want to spend your away time from the slopes and cash in.
Elie Saab opens its yearly pop-up store during the winter season, where haute couture evening gowns and prêt a porter outfits are the epitome of feminism and beauty. Ideally located in the heart of the resort of Courchevel 1850, affluent visitors are continually enthused to visit the boutique when walking by the captivating window display, to shop for their festive party needs before the start of a glamorous evening.
L 'Atelier comes at the top of the chart for your trusted expert equipment guide and superior quality snow outfit store. Nestled in the exclusive Jetsetter's altitude Village 1850, L 'Atelier is where you'll shop for the perfect skis, snowboards, fitting boots and everything else you may require before hitting the slopes.
Le Cheval Blanc took their collaboration to another level by teaming up with Lacroix skis inventors, and manufacturing a limited special edition exhibiting quality and finesse. How can we go with a genius pair of skis without matching it with a snowboard? Nidecker, the Suisse pioneer in action board brand has also collaborated with Le Cheval Blanc to create an innovative design snowboard, stamped with the signature color of the luxury hotel chain.
For those who want a private shopping experience, Le Cheval Blanc privately arranges an exclusive time for swanky guests, wanting a sole dedicated expert to fulfill their spending needs.
The main road in Courchevel is indubitably shoppers' heaven. You will be delighted at the variety of apparel and accessory stores you can visit while strolling down Rue du Rocher. This is your bond street, London and upper 5th avenue New York sister place. You can find all your favorite luxury and high-end brands such as Fendi, Dior, Alexander McQueen and many more.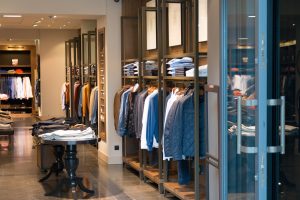 Bernard Orcel is an exclusive boutique where fashion, mountains and Ski collide in a true tradition of extravagance. This multi-brand luxury shop carries a large variety of clothing and accessories, from casual wear to high-end ski attire. You will find big brands like Dior, Burberry, Fendi and a great selection of shoes, scarfs and designer's hat from Giuseppe Zanoti, Simonetta Ravizza and much more. At Bernard Orcel, there is truly something for everyone.
Blu&Berry is a family store with an expertise in creativity and luxury. The shop carries over 30 brands filling their showroom with chic, and stylish items that draw in guests daily. The front display window is eye-catching and inviting. It is always perfectly arranged with popular selling coats, handbags and footwear, allowing people to window shop before stepping inside. You will find sportswear from luxury brands, like Celine couture, to make you look your best while on the slopes.
Cashmere items are timeless, sophisticated and essential for any Fashionista's closet. Eric Bompard is a cashmere specialist and a must stop boutique, when looking to invest in classic yet modern cashmere garment. Mongolian wool is used with traditional knitting to create sweaters, tops, scarfs, hats and more. In cold Courchevel 1850, Cashmere comes as the top choice for daily wear. Its warmth, durability and softness are worth the high asking price. Make it a tradition to stop at Eric Bompard and pamper your family and friends with a special gift guaranteed to be appreciated.
You will find sporting stores and boutiques peppered throughout Courchevel. Most of them have, for all ages, a large selection of brands and products to choose from, to complete your ski vacation. Intersport is a store that carries international brands to the diverse group of upscale visitors coming to Courchevel year after year. They cover all your winter sporting needs with a variety of items from Ugg, Puma, Teva, New Balance and Polar. You can rent your ski or snowboard gear on site and be served by a team of friendly professional who will equip and walk you out with a smile.
Fulsap, fashion Skiwear house and French elegance joined forces to create trendy clothing and lifestyle collection. The boutique in Courchevel 1850, opens its door a year ago and vows to keep a feminine collection based on artistic silhouette canvas, bringing curves to fashion. They offer selective pieces for men, women and kids, varying from ski suits, jackets, pants, winter shoes and much more.
My mountain Boutique is an online boutique full of striking mountain inspired loveliness. This virtual store puts forth on all sorts of handmade artwork, focusing on snow and ski theme. The boutique displays many forms of artwork including mini prints, wall sticks and handcrafted picture frames. They also customize blankets, pillows and winter skin care products with inspirational illustration. My Mountain Boutique works with the local restaurants, bars, and chalets by putting together customized packages that can be exploited as decor.
Bakery Pain d'Antan is the oldest boulangerie in Courchevel, who creates daily traditional French, scrumptious, organic and aromatic bread along with desserts. You will find various topping tartes, forêt noire, Opéra cake, eclairs, mille-feuille and much more, in a beautiful display arrangement ready to be taken home. These desserts are delightful and hot sellers during the winter season. The bakery offers home delivery service for all special events.
PISTE NOIRE Chocolaterie is an artisanal chocolate store where they've mastered the creation of delicious homemade, organic and authentic chocolate treats. The shop offers subtle aromas with deep flavors and pure textures. This chocolate mill is located at the heart of Courchevel 1850 and open to the public daily, to sample and purchase their sweets at their convenience. The chocolate can be packed and prepared to snuggle in your luggage, then taken back home to share and enjoy with your loved ones.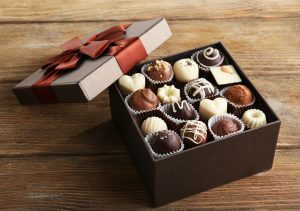 Le Baricou is amongst the best spots devoted to wine lovers in Courchevel. You will find an extended list of 1500 different types of wines, champagne and other fine liquor. The staff is knowledgeable and ready to suggest options to suit your palate, meal and gathering. You will be amazed by all the new information you will learn from the staff, even if you know a thing or two about wine! You will be able to sample some of the finest blended wines and spirits before you commit to purchasing. Le Baricou offers free delivery to any location of Courchevel resort.
All the way through the three valleys, there is a family owned, homemade, catered meal store called Farto. This place has existed for many years, and it keeps on growing, as it opens its door in Courchevel for guests wishing to have the night off from luxury restaurants and in-chalet cooking. This is a specialty store that carries soups, jams, chocolates, cheeses and remains open throughout the year. You will certainly be impressed with their fine collection of French wine to pair with the "menu du jour".
Most of the shops have the same operational hours. They usually open daily from 9 in the morning until 7 in the evening, whilst taking a midday break that lasts a couple hours. Make sure you set aside some time and a lot of cash to see what Courchevel has to offer. Even if you don't plan on purchasing anything, you will still enjoy the experience to have these fairy tale boutiques steps away from home.