You simply cannot leave Ibiza without swinging by a glamorous beach club. Whether is to enjoy a delectable meal as the sun goes down or to party the night away to a celebrity DJ, Ibiza has it all!
Here is our guide to the absolute best beach clubs in Ibiza; the venues that will see you enjoy spectacular views as you watch nights become mornings, while the sound of the world's best DJs floats through the air.
The best beach clubs in Ibiza        
This is Ibiza, so you simply can't leave without spending a night dancing away to a phenomenal DJ set just meters for the soft white sand. If you're looking for a great beach club in Ibiza, you'll be spoiled for choice – but here are our favorites.
Blue Marlin
It doesn't come much more famous or exclusive than Blue Marlin, a beach club that is synonymous with Ibiza's glamorous and decadent party scene.
For years, Blue Marlin has been the place to see and be seen, a stylish and sleek offering that's popular with the rich and famous. In fact, there's even a water taxi service devoted to ferrying guests between their ultra-luxurious yachts and the party at Blue Marlin.
Blue Marlin is set on Cala Jondal Bay and offers truly dazzling views out over the water. With such an exceptional setting, it's no wonder that the majority of the beach club's charms are found outside. Grab a day bed to use as your base, while VIP hosts rustle up exceptional cocktails.
If you're looking for something delicious to tantalize your taste buds, you'll love the offerings from Blue Marlin's exceptional team of chefs. The sushi, in particular, is simply to die for, and the perfect accompaniment to a warm Ibiza evening.
Although there are many charms outdoors, you simply can't miss making your way indoors to dance to the sets of an impressive list of international DJs.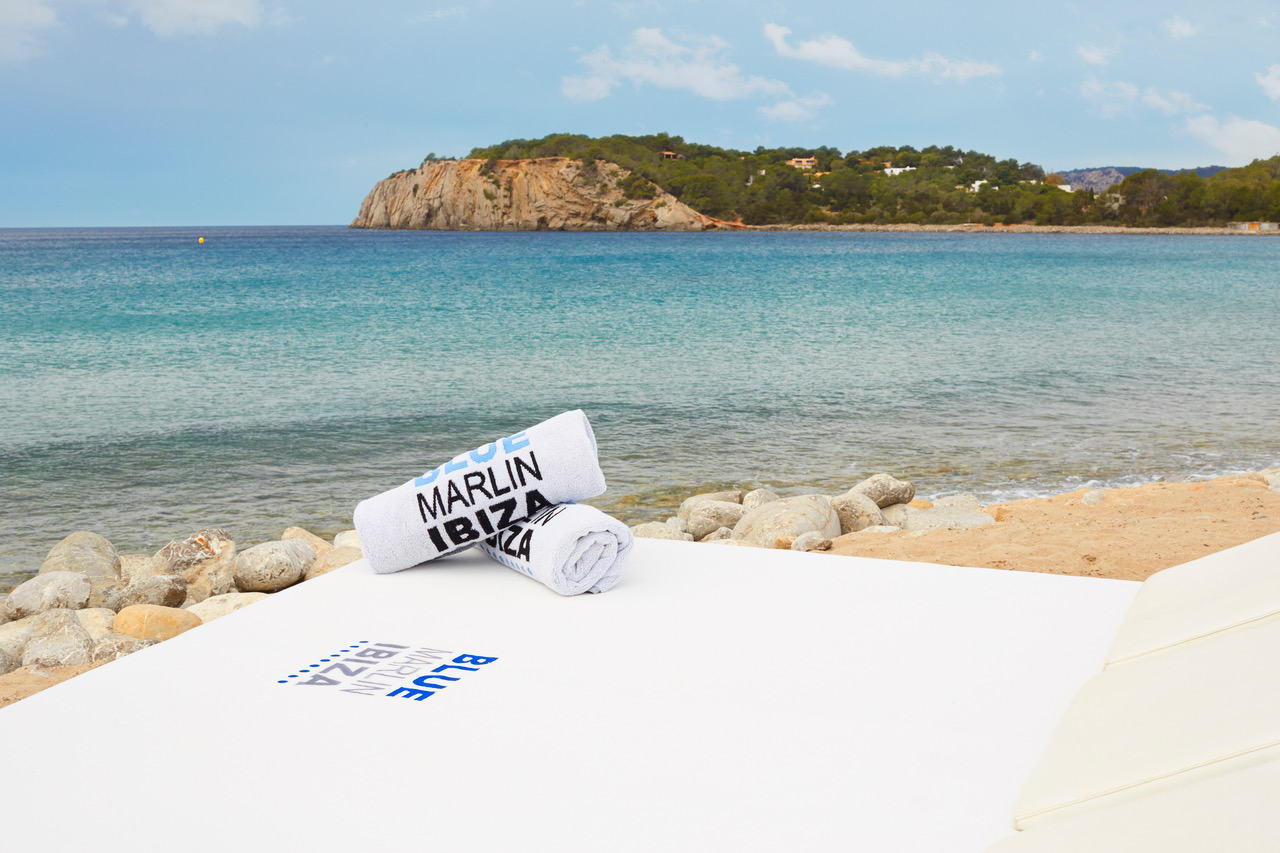 Ushuaia
Enjoy a generous slice of the good life at ultra-sleek Ushuaia, an exclusive and luxurious offering in Al Carida. This exceptional beach club is sure to impress even the pickiest of music fans; in 2018, Ushuaia saw out the season with DJ sets from the likes of David Guetta and Martin Garrix.
While the music is unbelievably good, Ushuaia is about the entire experience. This exceptional Ibiza beach club offers tantalizing gastronomic options, from an oh-so-chic oyster and caviar bar to a ritzy steakhouse. The variety and tastes on the menu are sure to please even the most discerning palates, and the views are stunning, too.
At Ushuaia, the party begins in the early morning and reaches a crescendo after the sun goes down, as the tunes tempt everybody onto the dancefloor for a night of revelry. Drinks flow freely and so do the good times – so don't be surprised if you're not ready for the evening to end.
Luckily, Ushuaia has you covered with their "Last Call" bar catering to those who have no intention of retiring early.
If you're looking for an ultra-exclusive and luxurious experience, book one of the coveted VIP tables is sure to delight.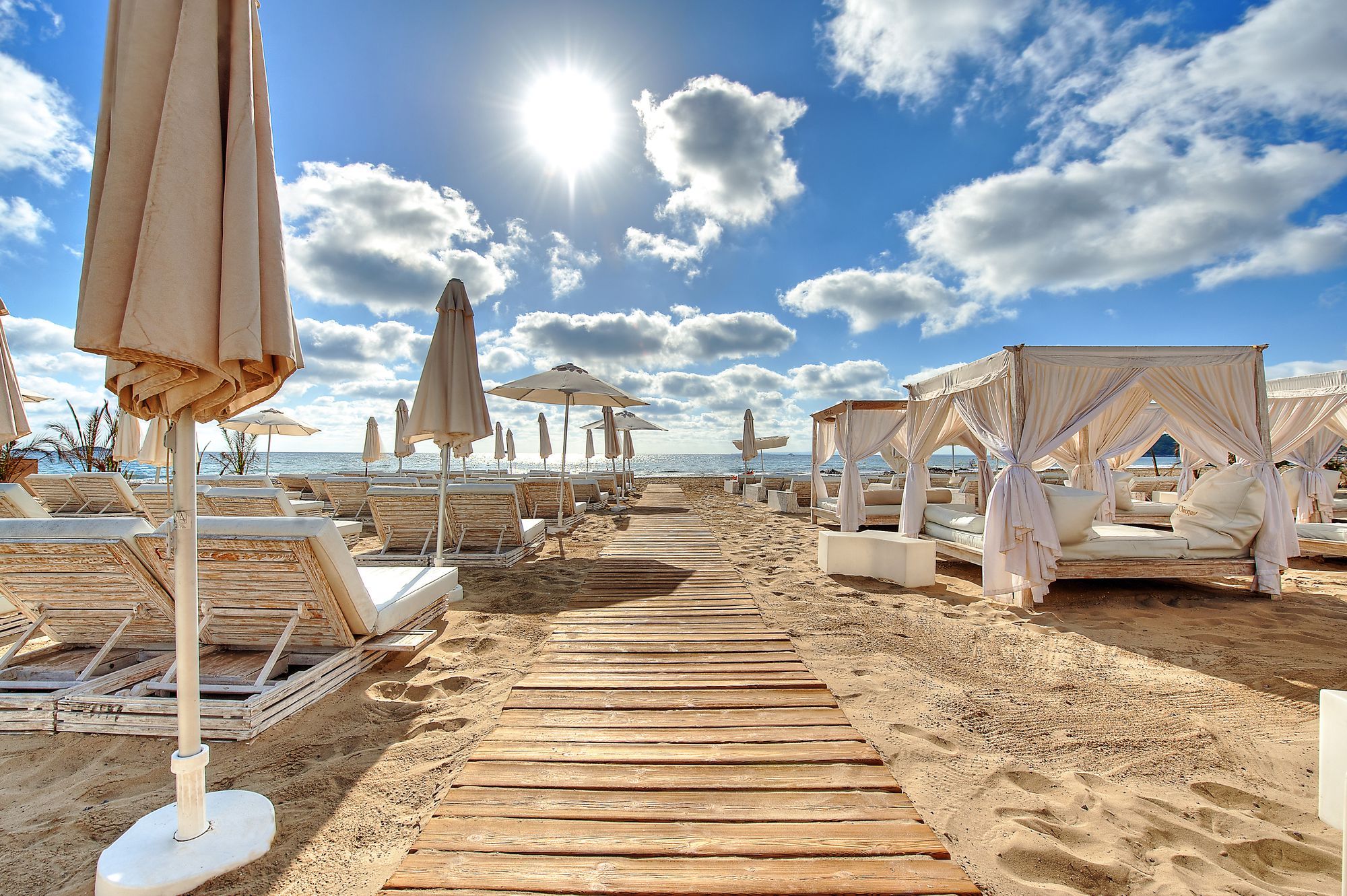 The best beach restaurants in Ibiza
Seafood never tastes better than when it's served with the glittering ocean just meters away. Feel the sea breeze in your hair as you enjoy a delectable meal accompanied by a delectable wine list – this is Ibiza, and life is good!
Amante
Perched into a cliff-face that overlooks the dramatic coastline overlooking Sol d'en Serra bay, Amante is one of the hottest beach restaurants in Ibiza.
Panoramic views of the sea are on offer, so count the hues of divine blues as you enjoy your meal, whether it be a long champagne lunch or a gloriously indulgent dinner watching the sun drop below the horizon.
The menu here is sure to impress, with sumptuous Mediterranean tastes with innovative and modern approaches. Quality and freshness are a key part of the Amante ethos, and they even grow sustainable and organic produce on their own farm just minutes from the restaurant.
It's not just the "farm-to-plate" approach that shows Amante's commitment to wellness. They also offer morning yoga classes, so you can take advantage of those beautiful views and recharge the mind, body, and soul.
Or, perhaps you'd prefer to snuggle up under the stars and enjoy a post-dinner movie in what is surely Ibiza's most picturesque movie theatre. Undoubtedly, Amante is an incredible Ibiza beach restaurant, but it's also so much more.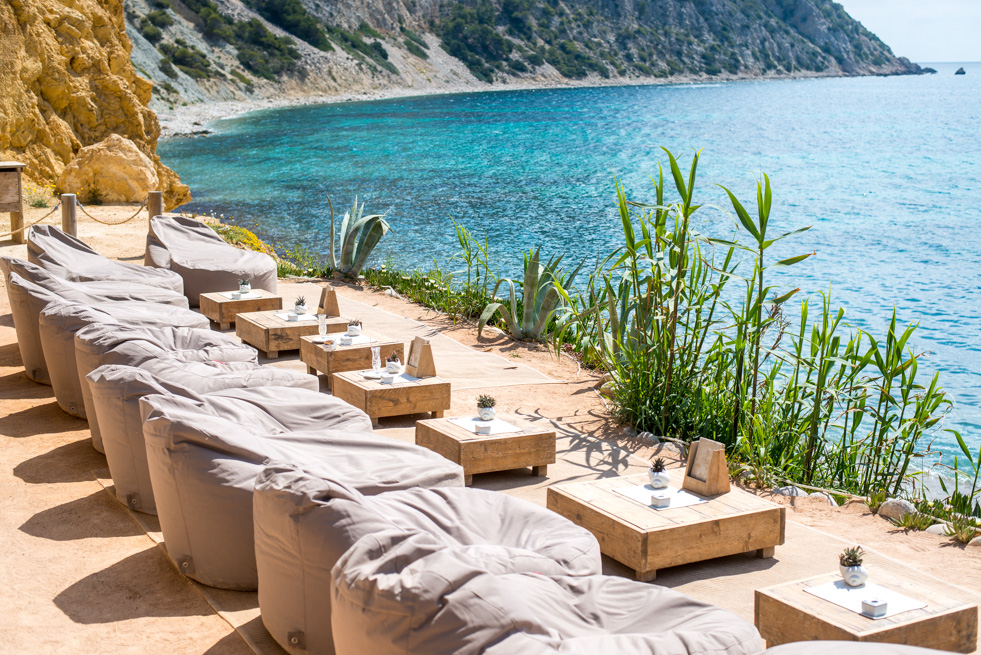 Cotton Club
The challenge with a beach restaurant that enjoys views as magical as the Cotton Club is making sure nothing detracts from them. Luckily, this exceptional offering has achieved that, with its sumptuous all-white interior which blends beautifully with the surroundings.
The interior of the Cotton Club is a true oasis of whitewashed calm. It has a semi-open design inviting guests into these stunning surroundings. The name is drawn from its luxurious soft furnishings although it also conjures up thoughts of the decadent Harlem jazz club famous in the 1930s.
Of course, the Cotton Club is the quintessential Ibiza experience, where you can enjoy delectable food and drinks while soaking in the incredible beauty of the surrounds. The menu is inspired by the tastes of the world and is approachable yet luxurious.
As you'd expect from one of Ibiza's premier beach restaurants, there's also a brilliant selection of beverages. In particular, the handpicked wine list is sure to delight even the most experienced sommelier.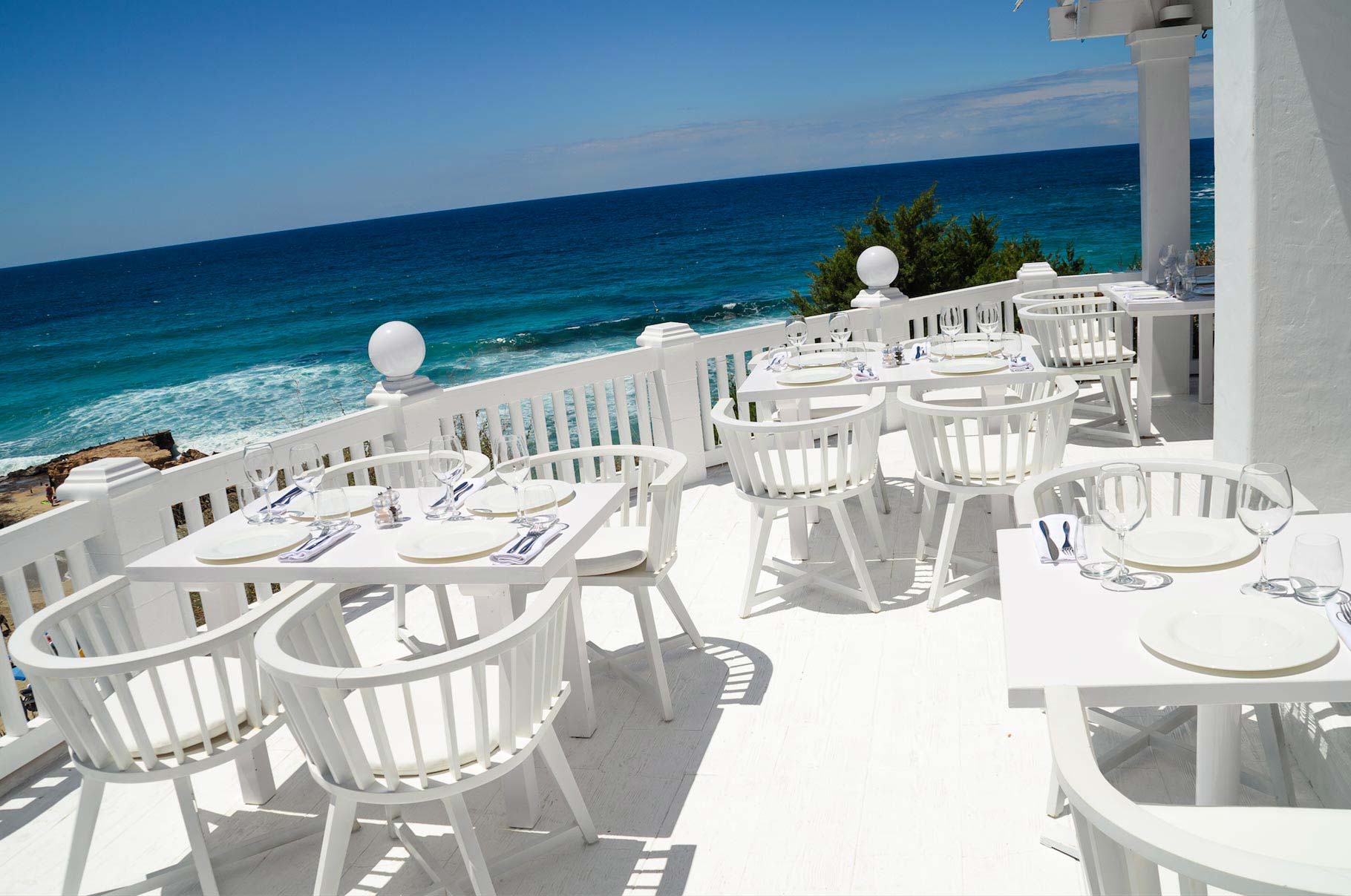 Cala Bassa Beach Club
Cala Bassa Beach Club may be situated on one of the most beautiful coves on the island. The pastel-blue hues of the translucent water are almost mesmerizing and are flanked by soft sands dotted with colorful umbrellas.
There's not one but four different, yet equally sumptuous, dining options located around the lagoon-like waters. Whether you're looking to enjoy innovative yet traditional Mediterranean cuisine while overlooking the azure sea. Or maybe you are craving some delectably fresh seafood. Cala Bassa Beach Club is sure to offer the perfect option for all palates.
Then, of course, there's the delectable wine list so you can find the perfect accompaniment to your Ibiza feast.
The atmosphere at the "CBBC" is a little more laid back. It's hard not to be tempted over to the sunbeds to laze by the sea after enjoying a scrumptious meal. There's a generous selection of watersports on offer, from stand-up paddleboarding to jet skiing.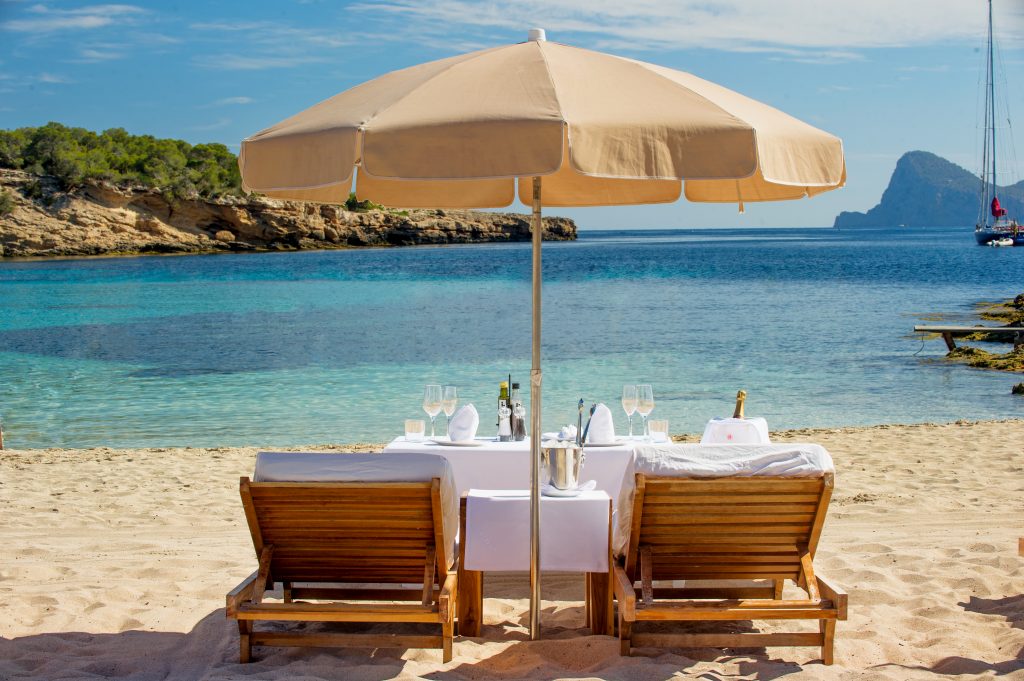 Nassau Beach Club
Nassau Beach Club in Playa d'en Bossa welcomes you to a decade of the true indictment on quality.
The setting is absolutely stunning. It offers sweeping views out over the glistening sea with an emphasis on friendly yet professional service.
For those looking to enjoy a delicious lunch or dinner by the sea, Nassau Beach Club is the place. It features a delectable teppanyaki lounge for a more relaxed experience, while the upmarket restaurant is absolutely delightful.
Don't forget to finish off the meal with a decadent dessert, or perhaps a tropical cocktail from the expert mixologists.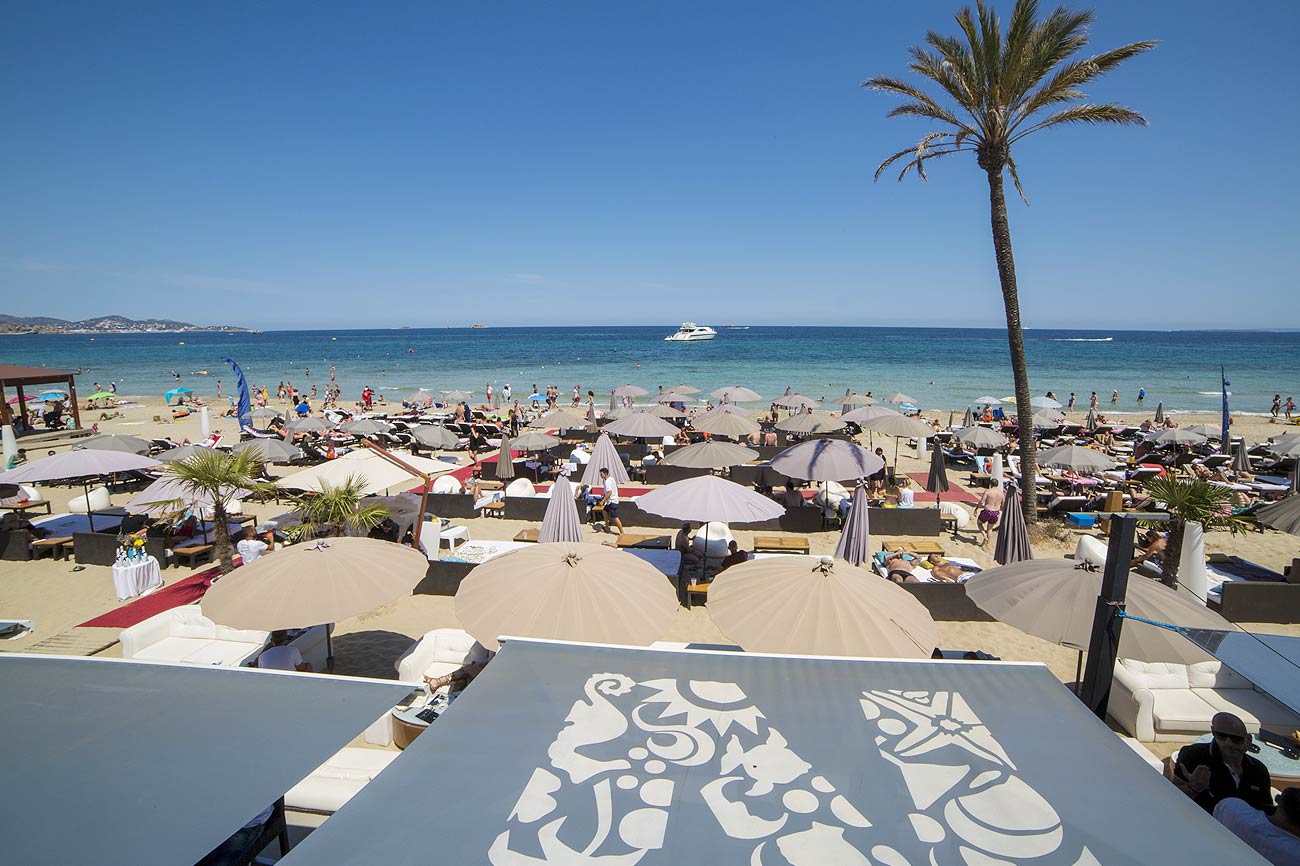 Jockey Club Ibiza
With so many super clubs on the island, Jockey Club Ibiza has an established reputation for offering something different. Inspired by the outdoor bars called "chiringuitos", the venue has a stunning food and drink menu, in a friendly environment.
The Jockey Club has a genuine authenticity attributed to the fact that it's a true family business. Today, two of the original owner's sons are at the helm of the business.
Located at Ses Salines Beach, Jockey Club offers a stunning Mediterranean menu that features classic flavors prepared innovatively. This means you can enjoy those classic flavors, with a bit of a new spin and edge.
The restaurant offers an expansive, hand-picked wine list to pair with your meals. There's also an excellent cocktail bar if you'd rather sip a daiquiri as you watch the sun go down.
As you can see, there is no shortage of incredible beach clubs and restaurants in Ibiza. All these options are sure to delight. They offer you a chance to enjoy the stunning tastes, sights, and sounds.