There are few places more magical at Christmas than Megève, one of France's premier ski areas. This winter wonderland is simply full of Christmas cheer, with plenty of special events as well as the wondrous landscape to get you in the festive spirit.
If you are considering spending Christmas in Megève, then you are in for a treat. So that you can make the most of a family holiday spent in this beautiful and exciting destination, let's look at how to have the perfect Christmas in Megève.
What makes Megève special for Christmas?
There are many beautiful places to spend Christmas – so why should you choose Megève?
As anyone who has visited this beautiful resort town will tell you, Megève is special. Of course, it boasts the spectacular skiing and amazing après-ski experience that you'd hope for – however, there is much more to it than that.
Megève is a ski resort area that is filled with an opulent yet inviting ambiance. Whether you are part of a large group of friends or simply traveling for a romantic couples' retreat, you will be warmly welcomed at Megève.
In the festive season, there is a range of exciting festive-themed events that are held around the resort. This means that it is the perfect place to bask in your Christmas cheer and make amazing, lifelong memories.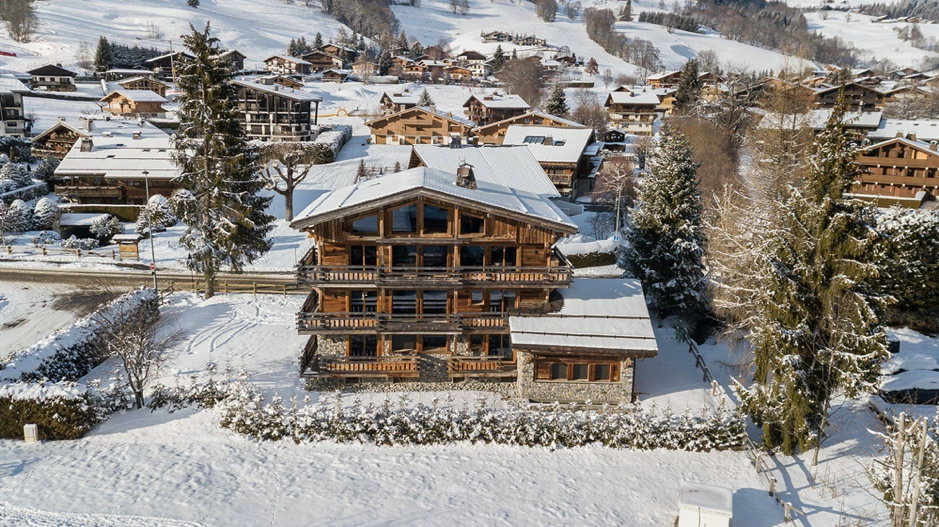 Highlights of Megève at Christmas
So, you've made the decision to spend Christmas at Megève! Here's how to enjoy the most spectacular festive season in this winter wonderland.
Special Christmas events around Megève
If you find yourself in beautiful Megève around Christmas, you'll have a wondrous selection of events to choose from. Here are our favorites.
Christmas lights
One of the earliest signs that Christmas has arrived is the stringing of Christmas lights. These glowing beauties signify that the festive season is rapidly approaching – and Megève is certainly no exception.
Megève is beautiful at any time, but when you add in the glistening illumination of Christmas decoration, it becomes even more exciting. From around the last week in November, the Christmas lights arrive in Megève – and wandering beneath them is sure to add charm to any winter holiday.
The Christmas Tree Switch On
As mentioned, the Christmas lights of Megève are one of the most famous festive attractions. However, it is the switching on of Megève's large Christmas tree that attracts the most excited crowds.
Each year, the Christmas light switch-on signifies the beginning of the ski and holiday period in Megève. Families, couples and groups alike all huddle together to watch the Christmas tree be illuminated with thousands of globes.
Not only does this signify the beginning of the Christmas period, but also the start of the best skiing in Megève. So, if you are around during early December – do not miss the opportunity to enjoy the fun of the Christmas light switch on.
Welcome to Megève
This event is not technically a Christmas event, as it continues all the way through to February. However, it begins the week before the big day – and is well worth visiting if you get the opportunity.
Each week, a fun and festive event is held in the Place du Village (Village Square). From 5:30 pm, it features drinks as well as a warm welcome, creating a community atmosphere in beautiful Megève. If you are visiting the resort for Christmas, it is the perfect welcome to this beautiful place.
Reindeer Husbandry Visit
They are undoubtedly one of the most iconic symbols of Christmas – and in Megève, you can get up close and personal with some loveable reindeer! It's sure to delight visitors of all ages to meet and pet these cute and cuddly animals.
It is surely one of the Alp's most unusual attractions and the perfect thing to do during Christmas – a visit to a real reindeer farm. You should book your visit ahead of time to secure your spot, which A-List Villas would be thrilled to arrange.
Christmas Village
It's no secret that most children hope to spot Santa, and maybe pass on their most important Christmas wishes. In Megève, the little ones (and the young-at-heart!) will have the chance to meet Santa and his hard-working elves, right in the center of the village!
From December 24 to December 31, the Megève Christmas Village will be a magical place to join in some fun Christmas-related crafts and activities. The Christmas Village will be great fun for the whole family, and even Santa and his elves will be in on the festive cheer!
Christmas Parade
Every year, Megève hosts a magical Christmas parade – and this year will be no exception. On either December 24 or 25 (Santa is still checking his schedule), the famous Christmas parade will arrive in Megève.
Just in time for the big day, Santa will make his way through the village, and even hand out some presents to the children waiting. The whole family is sure to be enchanted as Santa makes a special appearance to spread plenty of festive cheer.
What to do on Christmas Day in Megève
So, you have woken up surrounded by snow in Megève and begun opening your presents – but what's next? Here are a few ideas for things to do on Christmas in Megève, that you're sure to never forget.
Christmas lunch/dinner
A delicious cooked Christmas lunch and/or dinner is an integral part of any festive celebration – and you will be spoiled for choice in Megève. Boasting the only three Michelin-starred restaurants in the Alps, you are guaranteed a Christmas meal you will remember.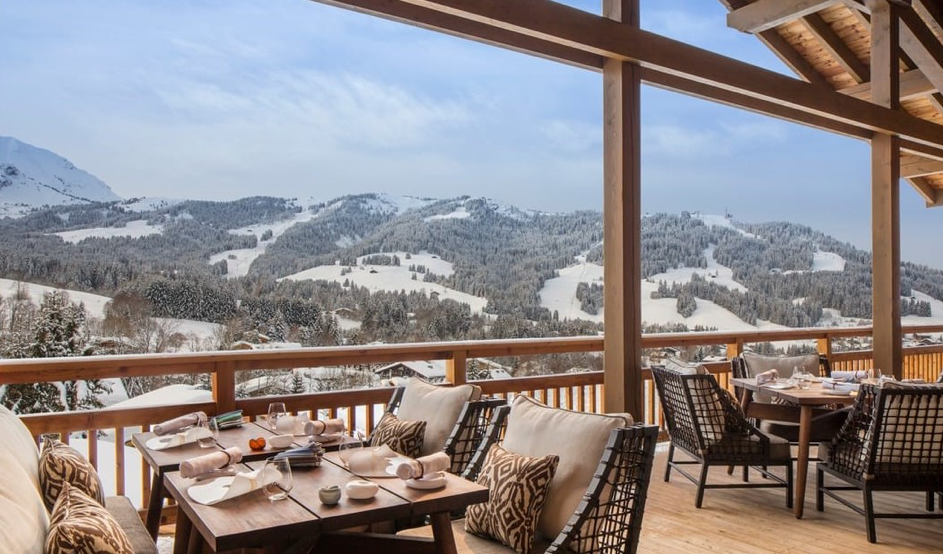 Some of our favorite choices for an amazing Christmas feast include:
Le 1920**, under Chef Julien Gatillon, at the Four Seasons (2 Michelin Stars)
Prima*, under Chef Nicolas Hensinger, at the Four Seasons (1 Michelin Star)
Flocons de Sel***, under Chef Emmanuel Renaut (3 Michelin Stars)
Carriage ride
What could be more romantic, and Christmas inspired than taking a carriage ride through the snow? Just like the famous Christmas carol, sleigh bells ring as you glide through this winter wonderland!
If you've been to Megève before, you have probably seen the beautifully decorated horses and carriages in the main square. To take a special ride on Christmas, speak to you're A-List Villas host who will be thrilled to arrange this special experience for you.
Skiing
While you may prefer to stay together as a family huddled around the open fire, hitting the slopes is a sure-fire way to enjoy a fun-filled Christmas Day. Of course, Megève offers some of the world's best skiing, so if it is an on-piste Christmas you're after – you're in luck.
You can easily spend a day navigating the slopes, before retiring to your luxury ski chalet to reflect on the amazing day you've had. Plus, with the fabulous restaurants of Megève, you'll be spoiled for choice when it comes to enjoying a delicious Christmas dinner.