As the weather starts to warm up in the northern hemisphere, we have already started dreaming of heavenly beach breaks in the summer months. Of course, there's no better destination for a brilliant beach break than Mykonos. The best beaches in Mykonos offer gorgeous vistas, chic clubs, and brilliant cafes and restaurants nearby.
It's no wonder that Mykonos has cemented itself as one of the most sought-after destinations for those seeking fun in the sun. In fact, there are so many beaches in Mykonos, that there's one for every day of your visit… and then some.
To help you find the most exquisite beach to enjoy during your lavish Mykonos stay, here's the A-List Villas guide to the best beaches in Mykonos.
Psarou Beach
If you want that effortlessly glamorous Mykonos vibe, then you'd best check out Psarou Beach. Located five kilometers south of Mykonos town, Psarou Beach is the place to be seen while enjoying the lavish trappings of the island.
The beaches covered in soft white sand with dazzlingly blue water. The air is filled with the tunes of some of the world's best DJs. At night, there's an electric atmosphere as guests enjoy the incredible music and ambiance.
It is here on Psarou Beach that you will find Nammos, one of the top restaurants in Mykonos. Just a short distance away, the sublime Kensho Restaurant and Beach Bar also beckon. So, why not settle in for a day of sunbathing before enjoying a tantalizing dinner (and cocktail) at one of the glamorous venues.
A word to the wise – Psarou is one of the most popular beaches in Mykonos, with traffic to match! We recommend arriving after 3 pm so you can enjoy the ambiance and avoid some of the crowds. Helpfully, all cars are valet parking for your convenience.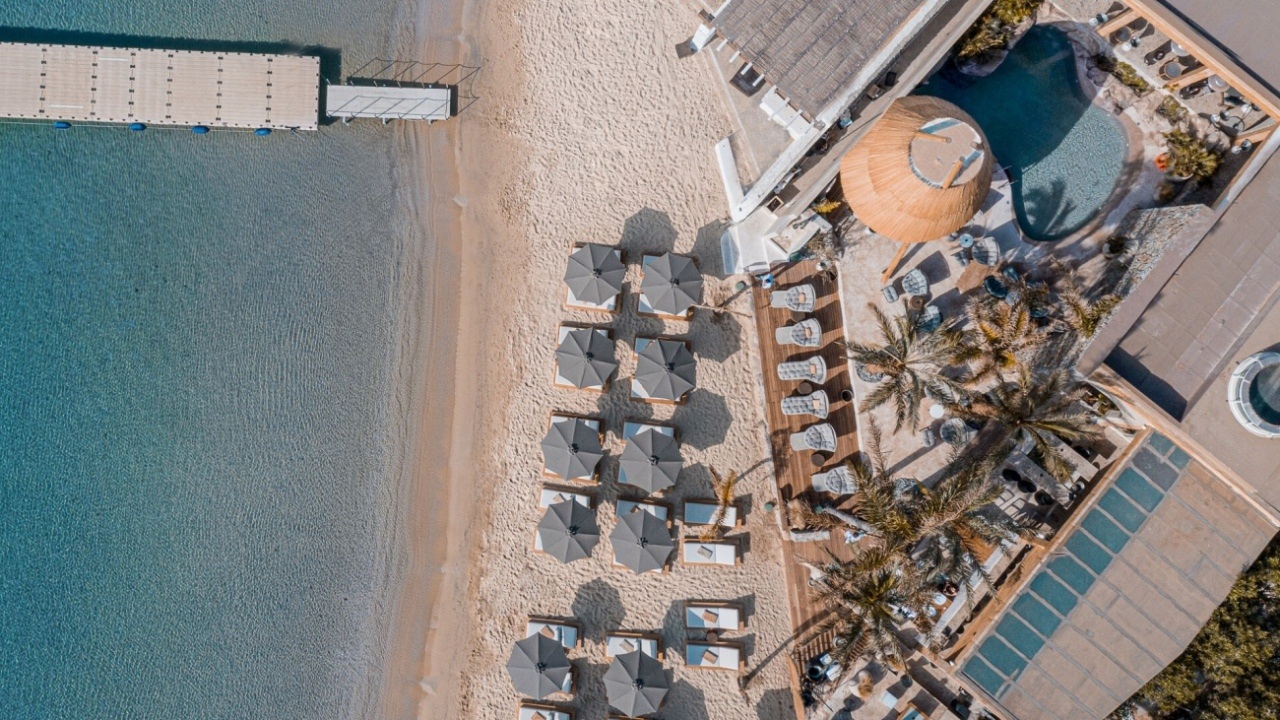 Paraga Beach
Another of the most glamorous beaches in Mykonos is the gorgeous Paraga Beach. This spectacular seaside destination is perhaps best known for its sunset parties – chic and hedonistic affairs where you can sip cocktails in the golden sunlight.
Paraga Beach is also famously the home of Scorpios, one of the most stylish beach clubs in Mykonos. Borrowing inspiration from Tulum and with a hearty dose of Bohemian style, this fabulous club is the address once the sun goes down.
Offering sumptuous food, relaxing massages and meditation, henna tattoos and more, it's no surprise that Scorpios is one of the top-rated clubs in Mykonos. For that extra dose of glamour, you can even access the VIP lounge – if you're lucky!
Another great option close to Paraga Beach is Kalua, which is just a leisurely walk from Scorpios.
You'll find Paraga Beach six kilometers south of Mykonos Town.
Insider's tip: Every Sunday, Scorpios throw a 'Sneaky Sunday' bash where a secret, world-famous DJ drops by to play a fabulous set. Don't miss the chance to be amongst it!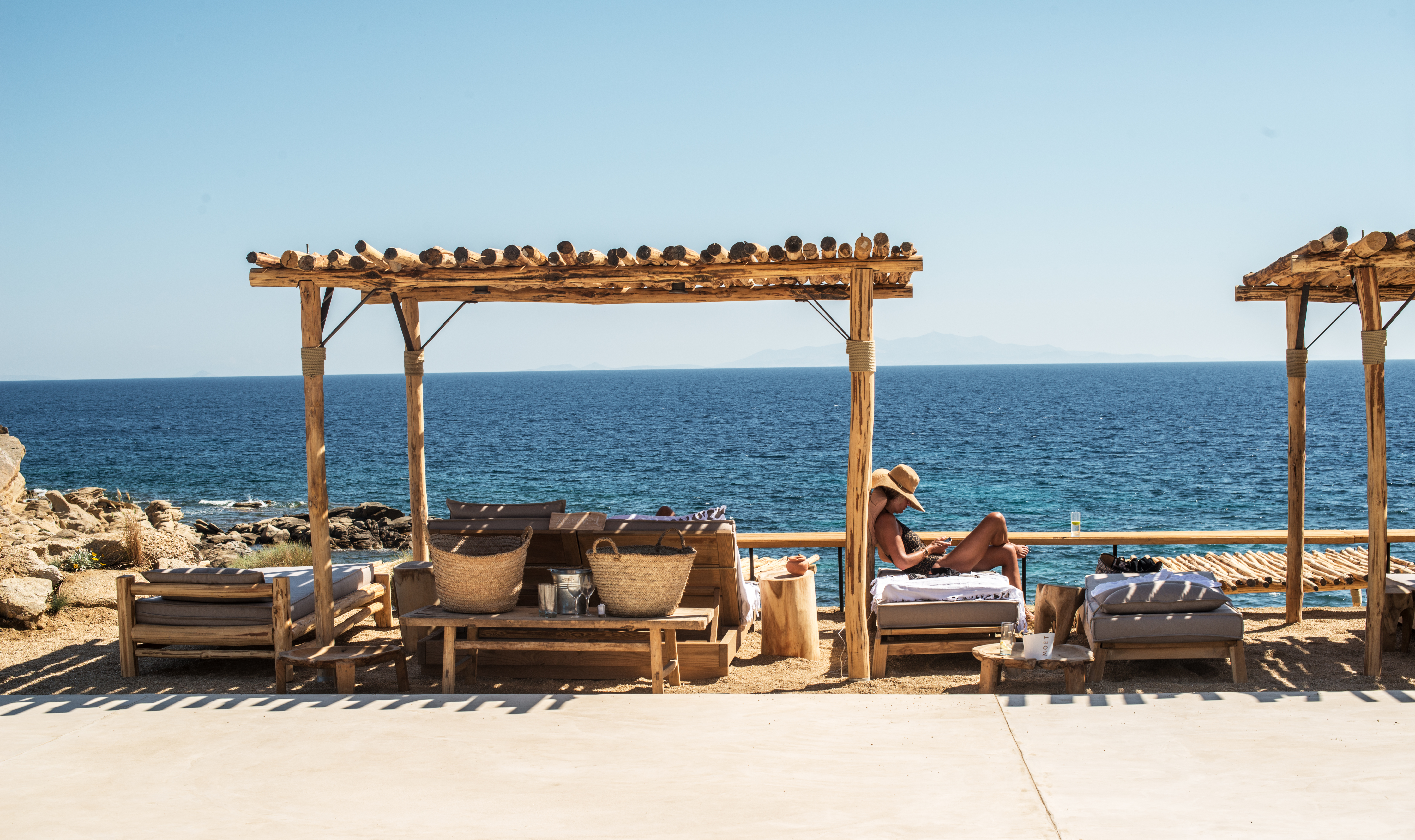 Panormos Beach
If you are looking for a slightly more relaxed beach, then Panormos Beach may fit the bill just perfectly. This stunning beach has all the ingredients for a perfect island paradise – think brilliant cerulean waters and plenty of sand to go around.
Panormos Beach lies about a twenty-minute drive south of Mykonos Town, meaning it is that bit quieter than some of the other beaches. That's not to say it's boring – far from it! There is still a good selection of restaurants and other amenities to enjoy.
We are big fans of Principote Bar & Restaurant. This stylish venue has excellent music and, by night, a great party atmosphere. It's the perfect spot to enjoy a delicious meal (their fish, prepared Mediterranean-style, is exquisite), then a few cocktails – all while soaking in the sumptuous views.
Insider tip: Panormos Beach is in the south of the island so it can get quite windy. If you're hoping to go for a dip in the dazzling water, you'll want to choose a calm day.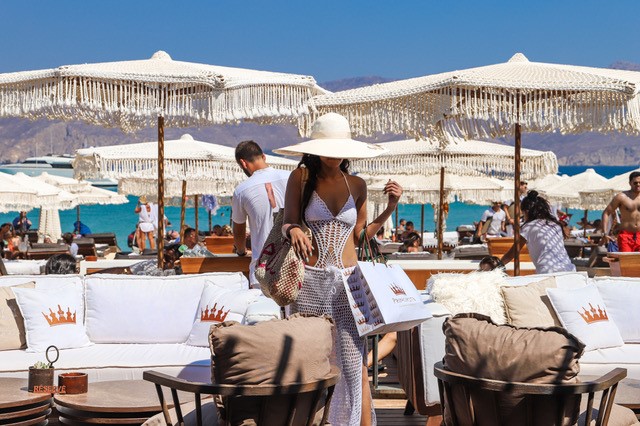 Kalafatis Beach
With a huge swathe of soft sand and glittering water, it's not hard to see why Kalafatis Beach is considered one of the most beautiful beaches in Mykonos. Located twelve kilometers south of Mykonos Town, it is a little less crowded than some of the city beaches – but it still knows how to party.
By day, Kalafatis Beach is relaxing and friendly, with a plethora of sunbeds to relax on. As the sun sets, however, the atmosphere becomes more festive, and the party really kicks off. By night, it's a fabulous place to revel in the beauty and good vibes on Mykonos.
While Kalafatis Beach is a little quieter than some other Mykonos beaches, it's still got a good selection of amenities. Top of our list is the excellent Spilia Beach Bar and Restaurant – perfect for a few cocktails, or for a sumptuous dinner, all while hovering just over the gorgeous sea.
If you fancy a seaside stroll, it's a short (15 minute) walk to another beach, Agia Anna, from Kalafatis.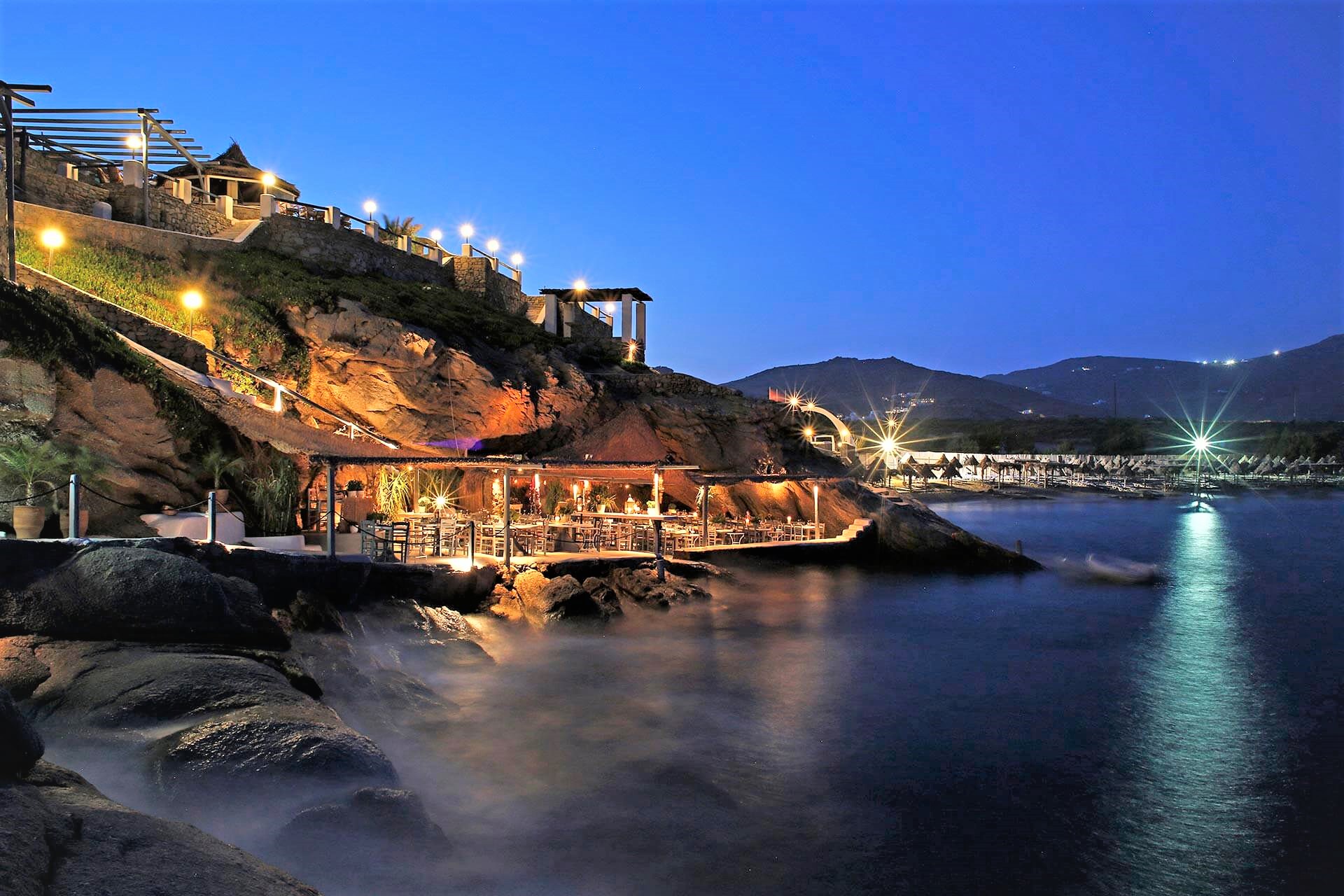 Agios Ioannis Beach
It's very hard to pick the best beach in Mykonos… but Agios Ioannis is a front runner. We just love the incomparable atmosphere of this beautiful beach. Also known as Saint John in English, it's got a carefree spirit that you can just soak up all day.
Just five kilometers south of Mykonos Town, Agios Ioannis Beach is easy to reach yet has a relaxed and laidback atmosphere. This is the kind of place to visit and totally chill out, losing yourself in the relaxing island vibes and soaking up the sun.
When visiting Agios Ioannis Beach, be sure to stay until sunset. Of course, there are magical sunsets all over Mykonos… but those here are particularly beautiful. You can either enjoy them while reclining on the beach or perhaps drop into one of the nearby stylish restaurants or bars.
Our pick is Hippie Fish, a fabulous restaurant and bar that replicates the laidback Agios Ioannis ambiance. As well as a sublime dinner menu and perfectly prepared cocktails, we also adore the music that's on heavy rotation at this glamorous yet approachable venue.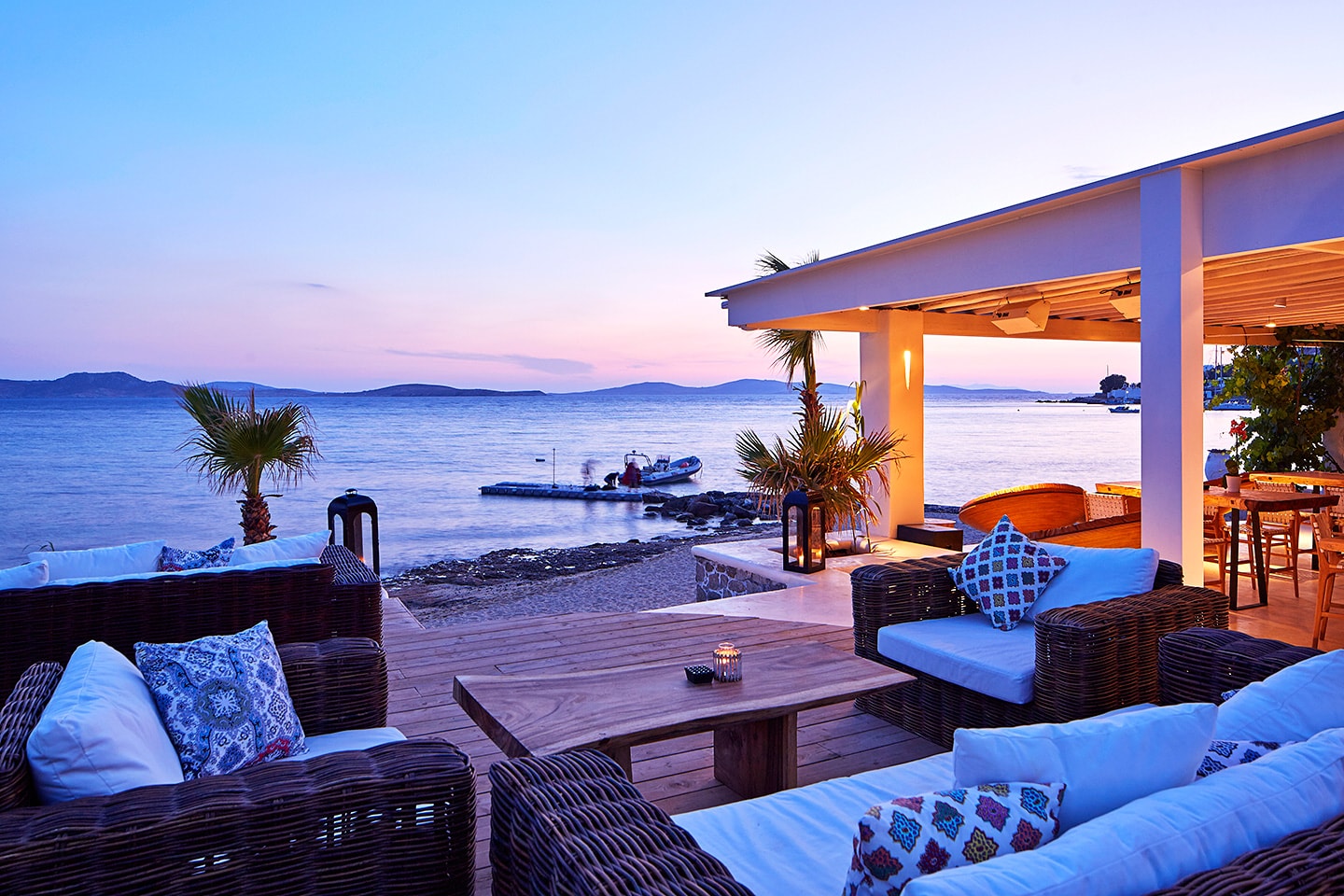 Ornos Beach
When you think of Mykonos beaches, chances are you find yourself imagining brilliant cerulean seas that are glass clear. That's certainly what's on offer at Ornos Beach, one of the most beautiful on the island.
It's also one of the most family-friendly beaches on Mykonos, although everyone is welcome to enjoy its charms. For families looking to make the most of their visit to Ornos Beach, we highly recommend dining at Kuzina Seaside Restaurant. It's a fabulous choice for the whole family.
Part of the popularity of Ornos Beach is its proximity to Mykonos Town – after a day of relaxing on the sumptuous beach, you're just a few minutes' drives away from the amenities of the city.
Of course, you may not even need to go that far. Ornos Beach is the home of Pasaji, a fabulous restaurant serving up a to-die-for menu in an ultra-glamorous setting. For a more laidback evening – or perhaps after dinner – there's also shisha with a view.
For an even more exclusive dip into Mykonos' legendary nightlife, there's the world-famous Buddha Bar, situated on its own private beach.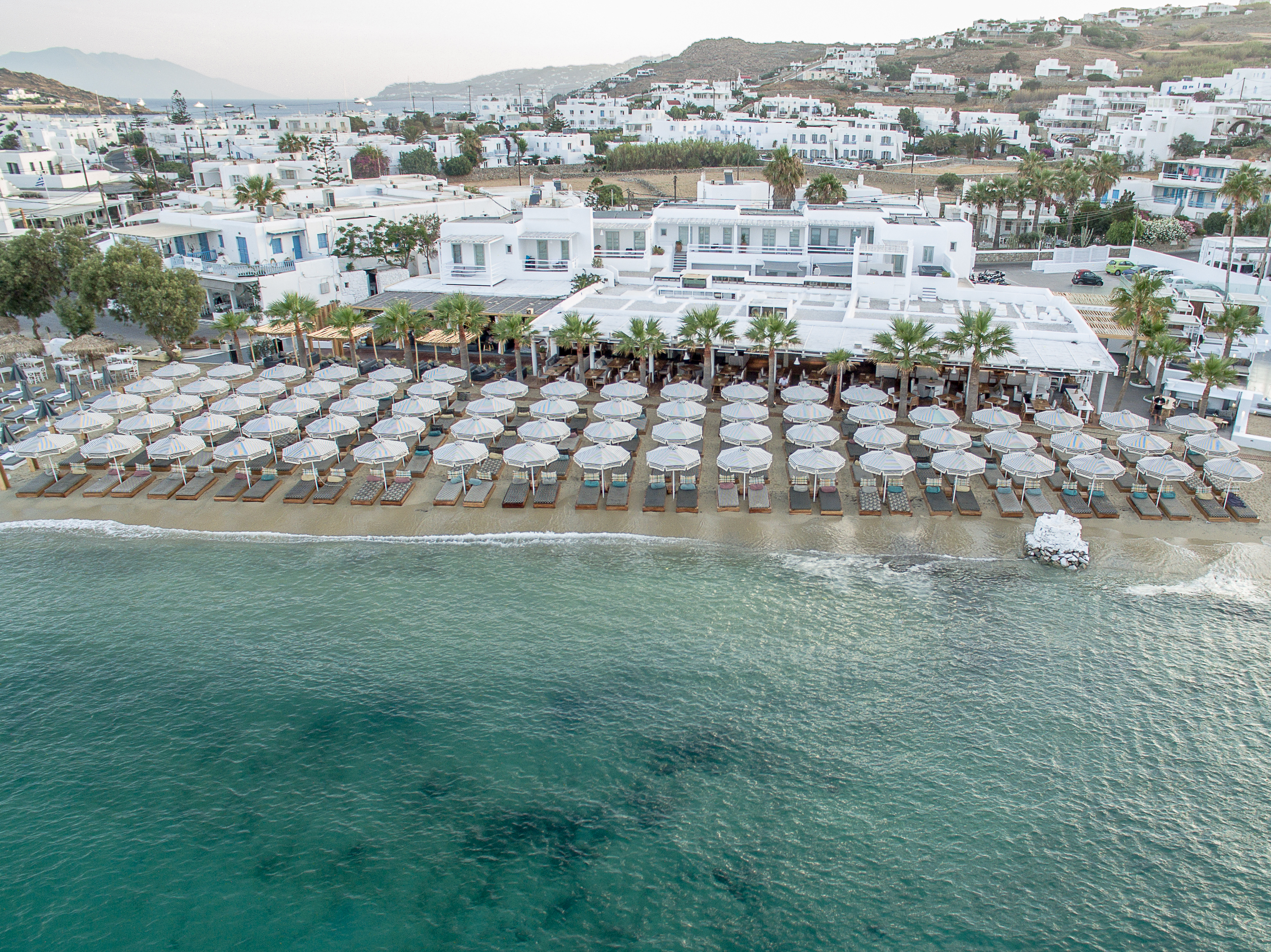 Ftelia Beach
The spectacularly beautiful Ftelia Beach is best known for two things. By day, it's a hub for water sports like windsurfing – thanks to its north coast location and healthy winds. From evening to morning, it's all about the hedonistic Alemagou, a favorite amongst the younger party crowd.
Borrowing inspiration from the laid-back vibes of coastal Mexico, Alemagou is a unique offering on Mykonos. It's no surprise it's generated quite the buzz, with its utterly sumptuous views and cocktails mixed to perfection. Why not join the party?
If you're looking for something to do before you hit Alemagou – you must, of course, check out the beach itself. It has a bustling atmosphere and is a favorite amongst those looking to try their hand at some fun activities while on Mykonos. Kite surfing is the chosen activity, so if you're feeling brave – get kitted up, and see what all the fuss is about!
Of course, simply sunbathing is a good option too.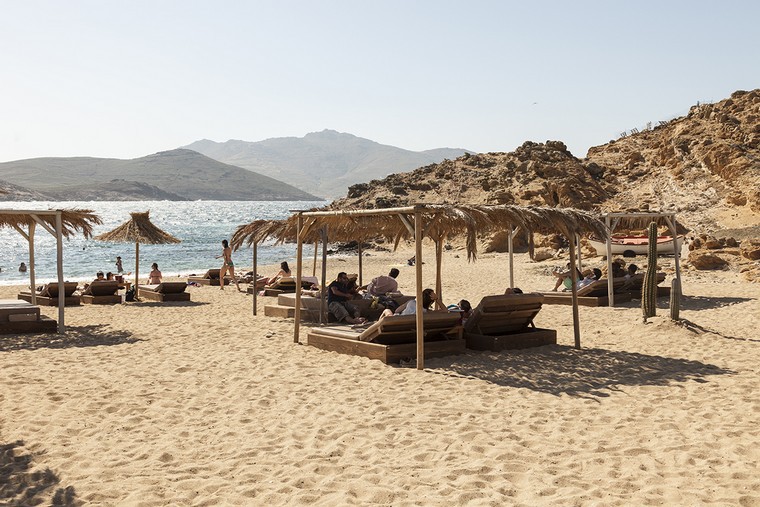 Kalo Livadi Beach
Mykonos is an island that is abundant in beautiful beaches – but even still, Kalo Livadi is a standout. This exquisite beach is one of the island's largest and most sweeping, offering plenty of space for you to relax under an umbrella and listen to the sound of the waves.
With so much space to go around, it's no surprise that Kalo Livadi attracts a varied – yet always glamorous – crowd. In recent years, several A-list celebrities have been spied relaxing on this beach, while it's also popular amongst families and couples on romantic escapes.
It's certainly not hard to see why it's such a beloved Mykonos beach, with its glass-clear water, soft sand and abundance of amenities.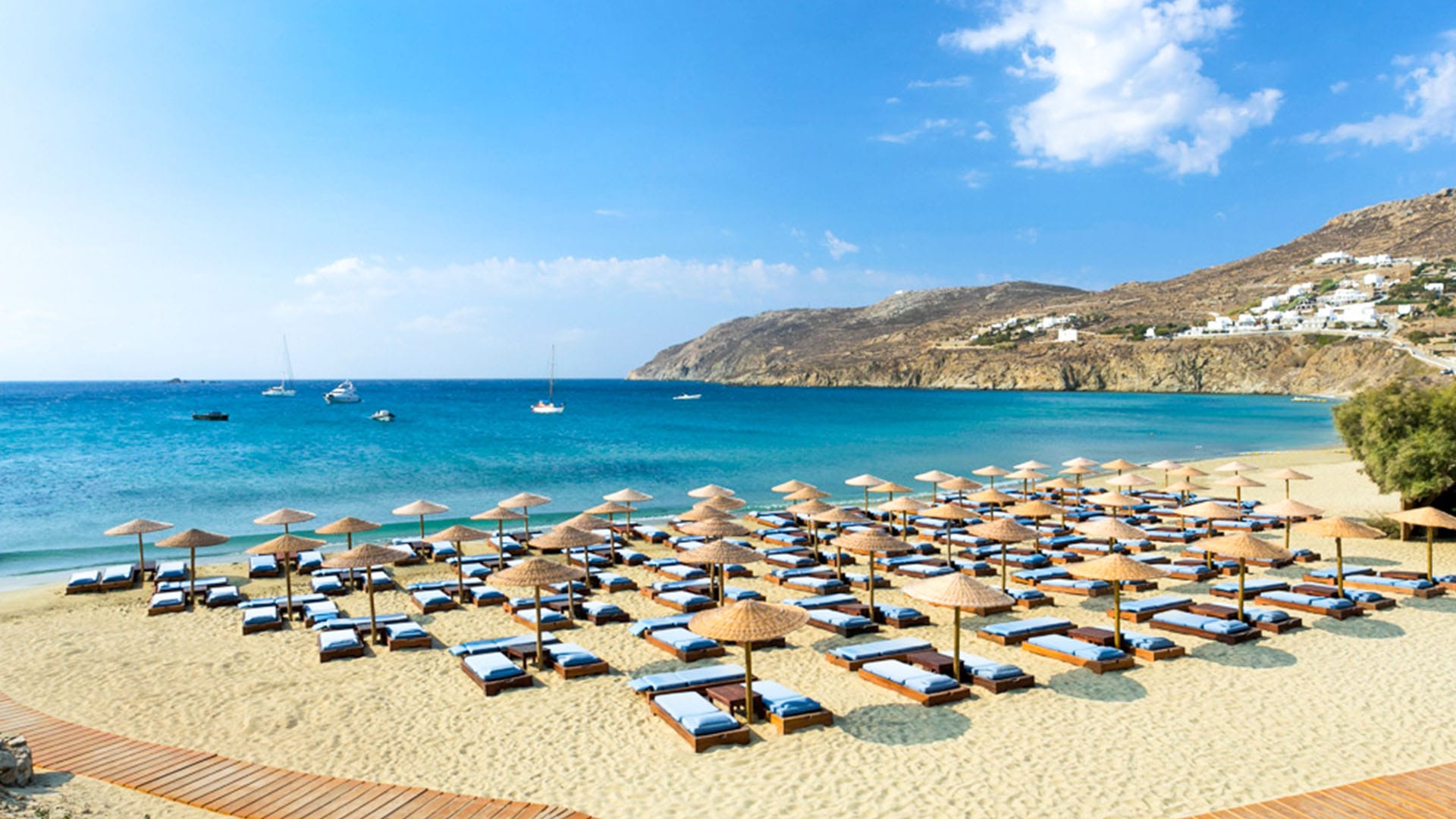 There are many great options to choose from, however, we must admit, Solymar Beach Restaurant never disappoints. After a day enjoying the beauty of this stunning beach, head over to the restaurant to enjoy some mouth-watering Greek cuisine. In particular (and as you'd expect given the seaside location) the seafood is utterly exquisite.