Seeing the night become morning while dancing away to the world's hottest DJs might be your idea of a dream summer. Then chances are you have heard a thing or two about Ibiza. This incredible island is a true paradise. The island is a legendary and hedonistic party and sublime natural beauty with an abundance of luxe attractions.
It seems like every year Ibiza only takes things up a notch, and 2020 is certainly no exception. It looks like we're due to see a return to the roaring 20s. A stunning selection of international acts to catch, as well as a swathe of new venues throwing open their doors for the first time.
So, to help you to see your dream Ibiza revelry come to life, here's our ultimate guide to Ibiza nightlife in 2020.
Ibiza nightlife 2020: The Clubs
The White Isle is synonymous with epic SuperClubs. While in recent years, a few destinations have been hot on its heels (hello, Mykonos!). However, Ibiza remains one of the world's most beloved nightlife destinations. With a slew of world-famous venues like Amnesia and Pacha, it's no surprise. In 2020, we'll, of course, see a return of these stalwarts, as well as a few newer options to try.
The classics
The Ibiza nightclubs that never go out of style.
Pacha
The first major superclub in Ibiza remains one of its most famous and glamorous. Since opening way back in 1973, Pacha has become synonymous with Ibiza. The club consistently attracts some of the best international acts on its floors. It's no surprise, then, that it's an enduring favorite amongst everyone from celebrity A-Listers to revelers from all over Europe.
Given its long and illustrious history as the jewel in Ibiza's party scene, it's no surprise that it's a slick outfit that seriously knows how to throw a good party. Every night of the week there's revelry well into the early hours of the morning. Meanwhile,  the VIP tables are ideal for those wanting some extra pizzazz during their visit.
In 2020 we expect big things from Pacha as it's just gone through a large renovation and refurbishment. We're excited to know that the fabulous Solomun +1 party – one of the best and most loved on the White Isle – will be back, though.
Opening party? Unlike most of the nightlife in Ibiza, Pacha actually never officially closes for winter. It does usually mark the start of the busy season with a special "opening" bash in April/May, however. The 2020 date is TBC.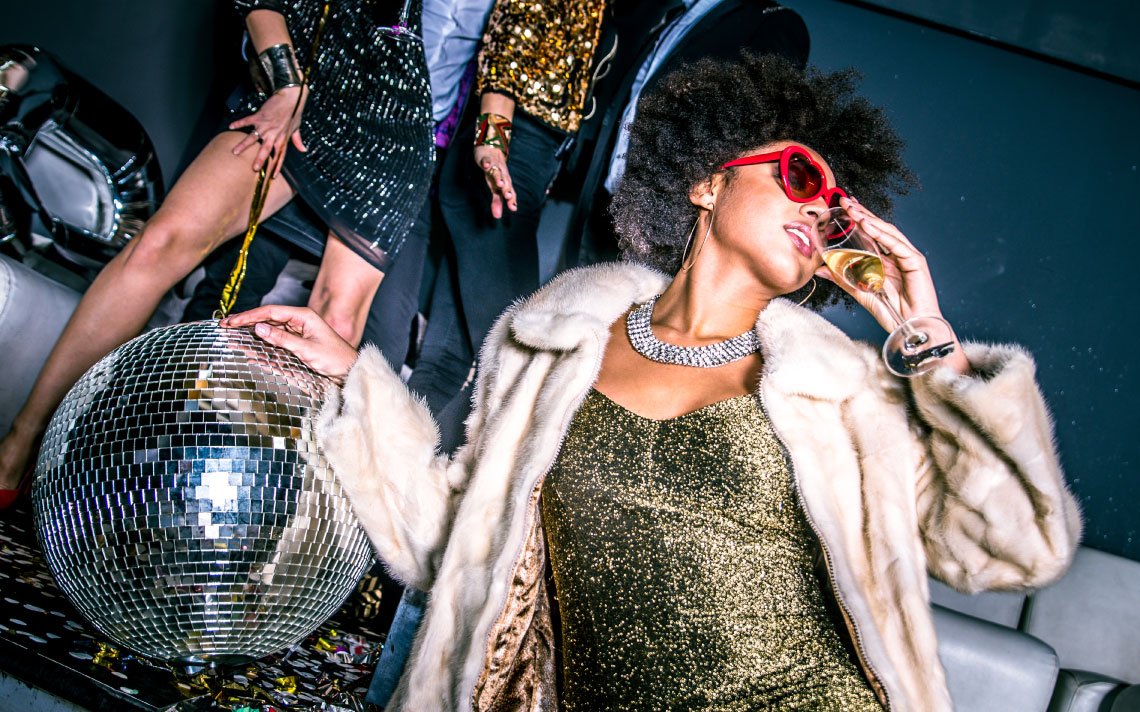 Eden
Eden has gone through a few iterations, perhaps most notably as the infamous Star Club throughout the 90s. Today, this San Antonio superclub has been extensively renovated and is now a glamorous and hedonistic club that attracts an impressive line-up of international DJs.
This venue is perhaps one for the true music lover, as the jewel in its crown is its industry-leading VOID sound system. This advanced system creates an unforgettable music experience that's to the delight of both revelers and DJs.
Like most Ibiza nightclubs, Eden throws a number of rambunctious special events and parties. Returning in 2020 is the famous Defected Ibiza, which offers up nights of pure house and EDM. In the past, it's attracted big names such as Armand Van Helden and Basement Jaxx, so we're looking forward to seeing who's on the roster this year.
Opening party? Things will kick off with the epic Defected Opening Party on Friday 15 May 2020.
Ibiza Rocks Hotel
In Ibiza, the party doesn't wait until the sun goes down. If it's a daytime bash that you're after, there's nowhere better to be than at the fabulous Ibiza Rocks. Their legendary pool parties are what summer dreams are made of – and we're sure you'll love them in 2020.
Hosted by big names like Craig David and Rudimental, the epic pool parties are undoubtedly a highlight of the Ibiza summer. While there's a generous supply of EDM (and delicious cocktails), Ibiza Rocks also hosts unusual guests such as pop stars and classic and indie rock bands as well.
Although Ibiza Rocks have been a stalwart of the Ibiza nightlife scene for some time, it underwent a massive renovation in 2018. Part of this renovation saw a brand-new VIP area including a party suite, so we highly recommend trying that out in 2020.
Opening party? The season at the Ibiza Rocks Hotel will begin with a fabulous party on 15 May 2020. Stay tuned for the line-up – Ibiza Rocks is celebrating 15 years in 2020, and we have a feeling it will be suitably epic.
Amnesia
If Pacha is the oldest super club on Ibiza, then Amnesia is probably the most iconic. There are few visitors who enjoy the nightlife of Ibiza without spending at least a few hedonistic hours enjoying the sublime vibes at this stalwart. It boasts two rooms – the enormous, dark Club Room, as well as the Terrace, with its famous glass roof.
As one of (if not the) biggest names in Ibiza, Amnesia's massive rooms are almost always totally filled with revelers lost in the eclectic music. Here, you can expect to hear a range of tunes including techno, house, Latin, reggaeton and more. So, if you're looking for a bit of variety in your clubbing experience – then you'll love Amnesia.
For a different experience, you may wish to secure entry to the VIP upper level, which boasts incredible views of the dancefloor and a slightly less frenetic experience.
Opening party? Amnesia's massive opening party will be held on Saturday 9 May 2020 and will feature techno heavyweight Adam Beyer along with other guests who are currently TBC.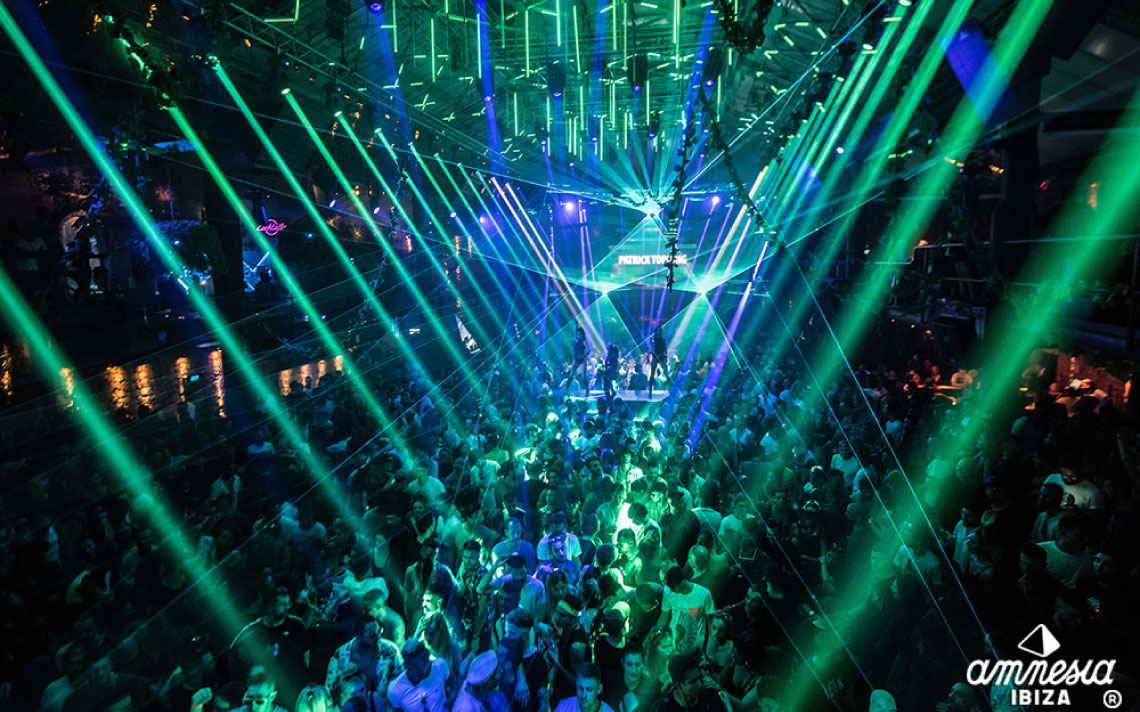 Ushuaia
Another option for those days when you're looking to party by day with the breeze in your hair, Ushuaia has a reputation as the White Isle's premier open-air super club – and we totally agree. A visit to Ushuaia is an experience to be absolutely treasured, with sublime music, pyrotechnics, and vibes all through the day and into the evening.
For the ultimate in experiences, we highly recommend
In 2020, we again expect to see Ushuaia pair up with its sister club Hï Ibiza for some epic festivities. They all kick off with the joint opening party which, if 2019 is anything to go by, will be an absolute spectacle again in 2020.
Opening party? On 9 May 2020, Ushuaia and Hï Ibiza team up for a 24 hour, indoor/outdoor extravaganza to mark the opening of the new season. There's no doubt this will be one of the hottest events in 2020, so book now.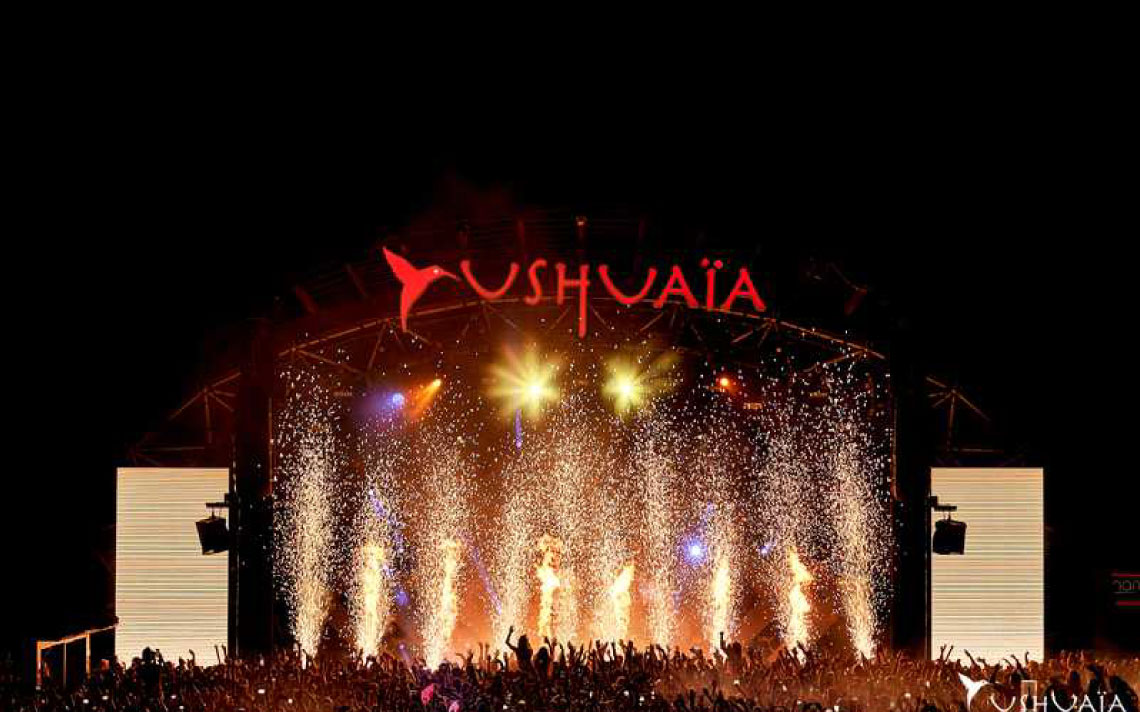 Privilege
It's fitting that the world's largest nightclub is in Ibiza, considering the island is synonymous with all-night revelry. That crown belongs to Privilege, a truly enormous super club that is unapologetic and uncompromising. It's expansive, rambunctious and hedonistic – and that's why we love it.
With a capacity of 10,000 and a floor space of over 6,500 square meters, this eye-watering enormous nightclub is truly unparalleled. Over the years, it's attracted a stellar line-up of entertainers, including DJs and singers such as Kylie Minogue, Grace Jones, and Freddie Mercury. It's easily one of the most iconic venues in Ibiza, and definitely one not to miss in 2020.
Opening party? The opening date for Privilege hasn't been announced. Last year it was one of the later clubs to open (opening 8 June) so we expect it will be similar this year.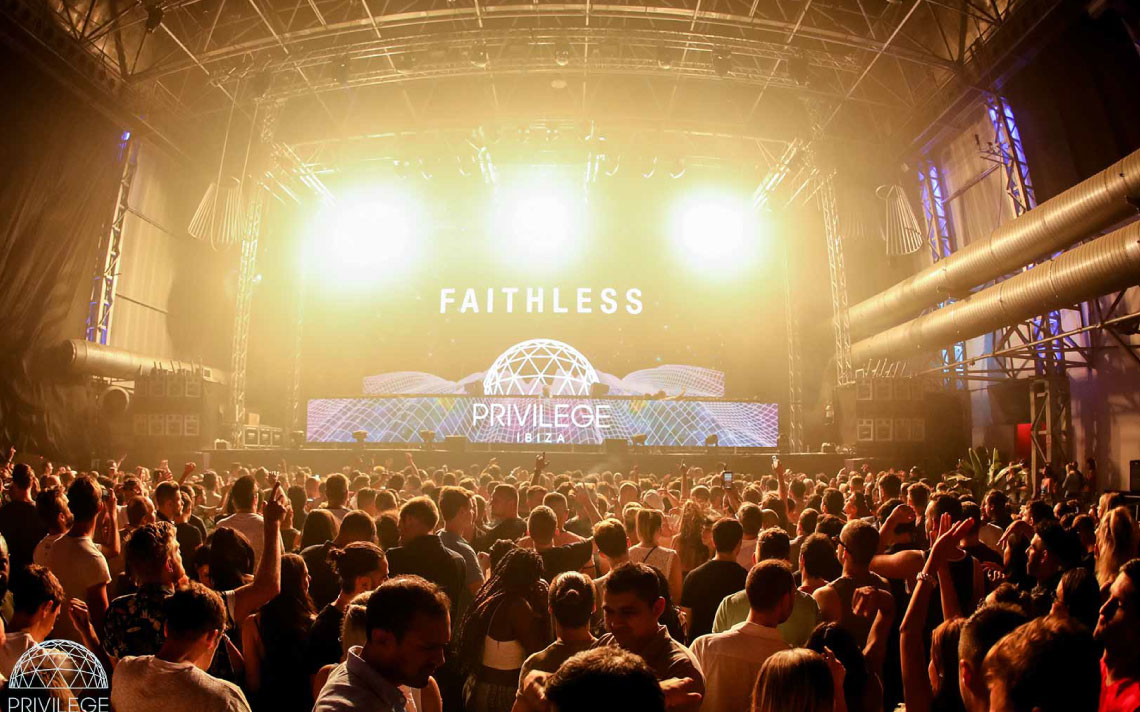 The newcomers
As well as the big names, a few newcomers have made serious waves on the Ibiza nightlife scene.
Hï Ibiza
This 5,000+ capacity super club certainly made a spectacular entrance when it burst on the scene back in 2017. In its fourth season, it's still looking to prove itself against Ibiza stalwarts, but it's doing a seriously epic job of it.
This fabulous club is an absolute feast for the senses, showcasing the latest in modern style and technology. The massive main room, The Theatre, takes on an entirely different character every night. Whatever the theme of the evening, you can expect to be utterly blown away by the spectacle of lights, music, dancers and more. Its out-of-this-world video production is particularly unique and famous.
Whenever you visit this amazing venue, you're sure to be wowed by the ultra-modern approach. Things are particularly incredible, however, during the epic opening and closing parties, it teams up with sister club Ushuaia for an unforgettable multi-venue bonanza.
Opening party? On 9 May 2020, Ushuaia and Hï Ibiza team up for a 24 hour, indoor/outdoor extravaganza to mark the opening of the new season. There's no doubt this will be one of the hottest events in 2020, so book now.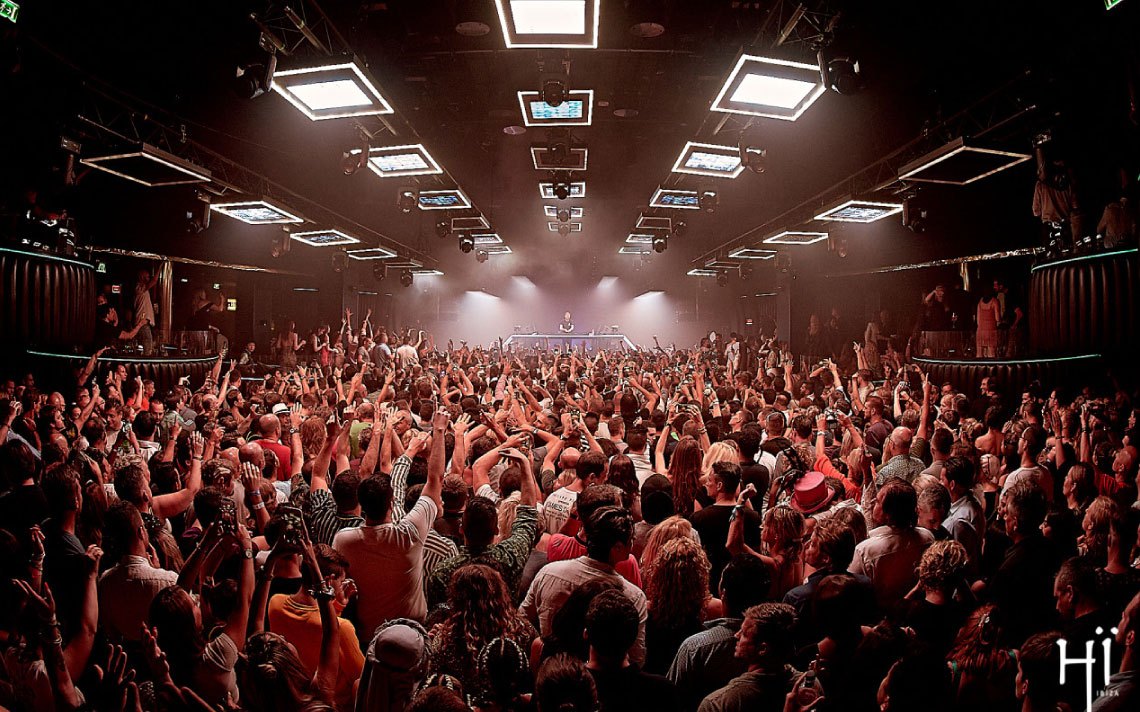 Ibiza Nightlife 2020: The Acts Not to Miss
We're excited to start seeing glimpses of the names who will be appearing in Ibiza's super clubs in 2020. While a few megastars have already started to filter through, we remain on tenterhooks waiting to hear who else will fill out the 2020 line-up.
More and more acts are announced weekly, but for now, here are the confirmed acts we're really looking forward to!
Rudimental (Ibiza Rocks)
Fresh of an ultra-successful 2019 season, the British drum and bass trio will return to Ibiza Rocks in 2020 to host pool parties at Ibiza Rocks. They'll be spinning their best and most well-known tunes, as well as welcoming a slew of friends to join them.
Craig David (Ibiza Rocks)
Another host who was so popular in 2019 that he's back on the White Isle in 2020 is Craig David. The world-famous British singer, rapper, DJ and producer threw some seriously epic pool parties last year and we're sure that 2020 will be no different. He might even seduce you into a few poolside sing-a-longs with his well-known classics.
Basement Jaxx (Eden)
One of the world's most enduring electronic acts, Basement Jaxx have been delighting crowds since they began (in a basement) in the early 1990s. Over their decades-spanning career, they've produced some of the world's most famous EDM tracks such as Where's Your Head At? They'll be the main act at Eden's Defective in 2020, so don't miss it!
Paul van Dyk (Eden)
An early pioneer of the trance scene, German-born Paul Van Dyk has grown to be one of the most successful and well-known DJs of a generation. Today, his lineup has moved well beyond trance. It's a showcase of fabulous tunes that will get you up and dancing, perhaps with a cocktail in-hand. In 2020, we'll see Paul return to Eden, so don't miss it.