It's no secret that Courchevel is one of the most magical places on earth. Every year, people from all over the world flock to the winter wonderland to enjoy the unique experience. In fact, many visitors return year after year so they can enjoy the amazing atmosphere of Courchevel again and again.
If it's your first time visiting the resort, then you might wonder how to spend a week in Courchevel. As the Courchevel experts, we've put together this guide to help you enjoy an absolutely spectacular week in Courchevel.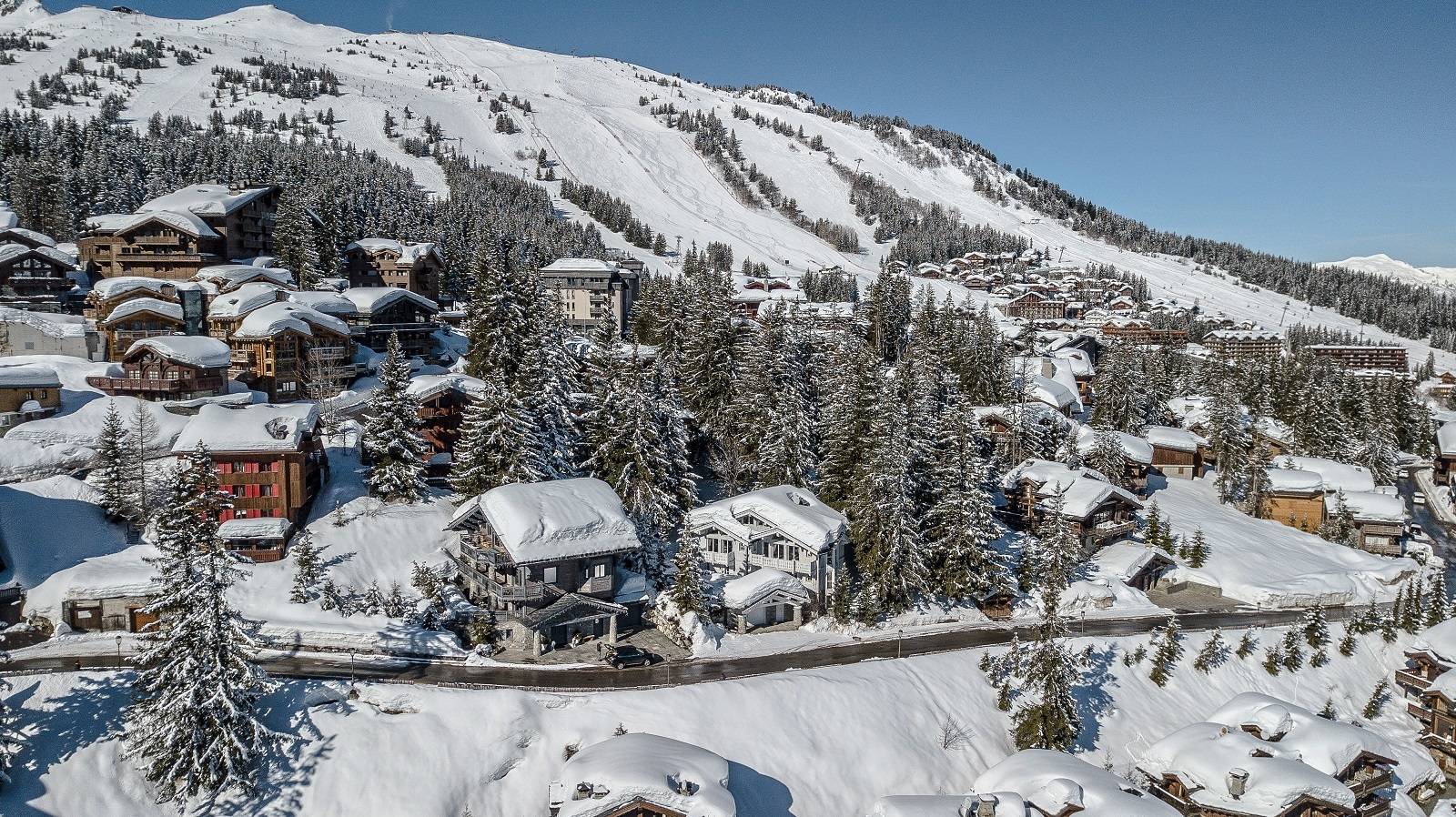 How to get to Courchevel
Your week in Courchevel will almost certainly begin with getting to the resort so you can settle into your ski chalet or apartment. Luckily, it's easy to get to Courchevel and you have a few options:
Flying commercial: there are two large airports (Lyon and Geneva) which are both around two hours away. Grenoble and Chambery are closer, but there are fewer flights into these. Once you arrive at the airport, you can either rent a car or organize a transfer to Courchevel.
Flying private: Courchevel has its own airport for light planes and private jets.
Train: you can quite easily get a train to the nearby town of Moutiers, about 24 kilometers from
Courchevel. There are direct trains from major stations in France, Belgium, the Netherlands, and the UK. Once arriving at Moutiers, you can hire a car or arrange a transfer to Courchevel.
Self-drive: if you're visiting from a nearby location, then you may like to drive your own vehicle to Courchevel. The road is safe, and most luxury ski chalets include parking.
How to spend a week in Courchevel
Once you've arrived in the winter wonderland, it's time to start enjoying your time. Here are some ideas for how to spend your week in Courchevel.
Skiing
It goes without saying that no holiday in Courchevel is complete without exploring the 150 kilometers of pistes. With an array of runs for skiers of all levels and a number of excellent ski schools, Courchevel is a skier's (or snowboarder's) dream.
Beginners and children are well taken care of at Courchevel, with 23 green runs. There are also free lifts to the beginner's slopes, which also encourages novices to get out and hone their skills. You'll find most of the green runs around Courchevel 1850 and Courchevel 1650.
One highlight for young skiers is the Western Park near Courchevel 1650. With a 'Wild West' theme, children are sure to love the easy runs here.
Of course, if you're more experienced you'll also be delighted at what's on offer at Courchevel. There are many excellent intermediate trails all throughout the Three Valleys area, as well as a number of slopes to really challenge you. One of the most challenging runs is the Gran Couloir, or experienced skiers may like to try going off-piste.
Read more: The best ski schools in Courchevel
Other winter activities
You'll want to leave at least a few days for skiing in Courchevel, but there's much more to do in this winter wonderland. So, be sure to rug up and head out to explore more of what is on offer at Courchevel!
If you're feeling ultra-brave, then you might like to visit the new three-kilometer-long luge track. Gliding over the snow just inches from the ground is sure to get your adrenaline pumping, with plenty of laughs along the way. Another adventurous activity is snowmobiling, which is great for adults and older children.
A few calmer options including tobogganing, ice skating and snow walks. Another memorable activity that is great for the whole family is huskie sledging, where you can explore Courchevel on a sled pulled by a team of loyal and loveable huskies.
Even more ideas
During your week in Courchevel, you might want to leave the slopes and enjoy some of the other activities. Courchevel certainly has plenty to offer, and whether you want a relaxing afternoon or an adrenaline-filled day, you're sure to find what you're looking for.
One of our top picks is visiting Aquamotion, a new and luxurious offering that is wonderful for the whole family. Little ones will love the range of kid-friendly activities including slides and a children's playground, while parents and older guests can enjoy the pools, sauna, and spa treatment rooms.
If you're still looking for ideas, then why not consider some unique experiences such as paragliding or hot air ballooning over the magical views in Courchevel? Or, perhaps you'd like to give rock climbing a try?
One thing is for sure – there are more than enough activities for a fun-filled week.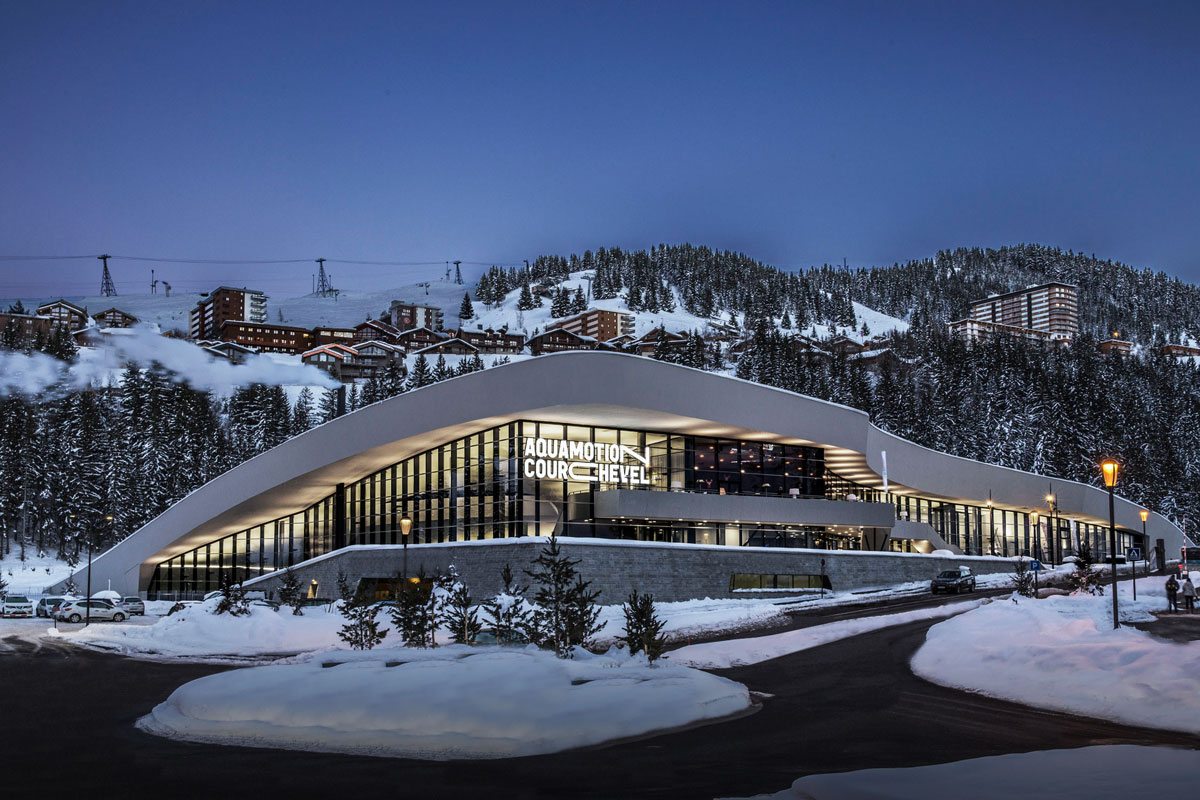 Spas
It wouldn't be a luxurious ski holiday without at least one visit to the spa to rest those tired muscles and indulge in some pampering. Luckily, Courchevel boasts a fantastic selection of spas that will have you looking and feeling your best.
With treatments ranging from a quick massage or manicure, through to deluxe and indulgent all-day experiences, the choice is yours. There are many excellent spas in Courchevel, including the Goji Spa Le K2 Palace and Spa Le Mer pour Les Airelles.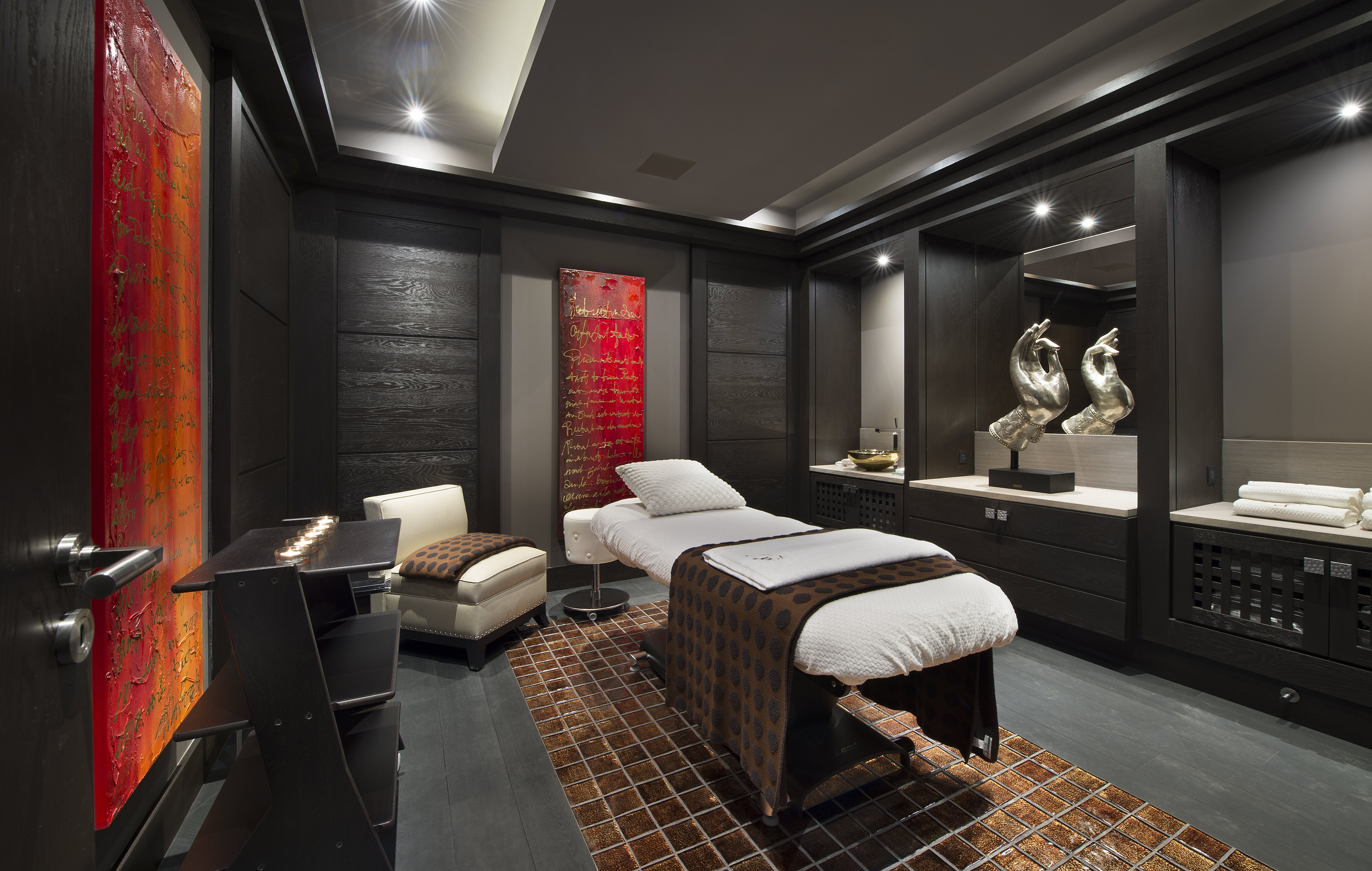 Shopping
Courchevel is a shopper's paradise, with many luxurious boutiques and labels on offer. Whether you're looking to update your wardrobe or just buy a few souvenirs to remind you of your stay, you'll be spoiled for choice in Courchevel.
If it's luxury shopping, you're after, then the best place to visit is the Courchevel 1850 village. Here you'll find a range of stunning boutiques, with labels such as Chanel, Hermes, Gucci and Prada on offer. You'll also find some smaller, emerging clothing and jewelry designers if you're looking for something a bit different.
For souvenirs, you'll find numerous shops and boutiques throughout the different areas of Courchevel. Forget plastic tat, in Courchevel you'll find beautiful, well-made items that will be lasting reminders of your wonderful holiday.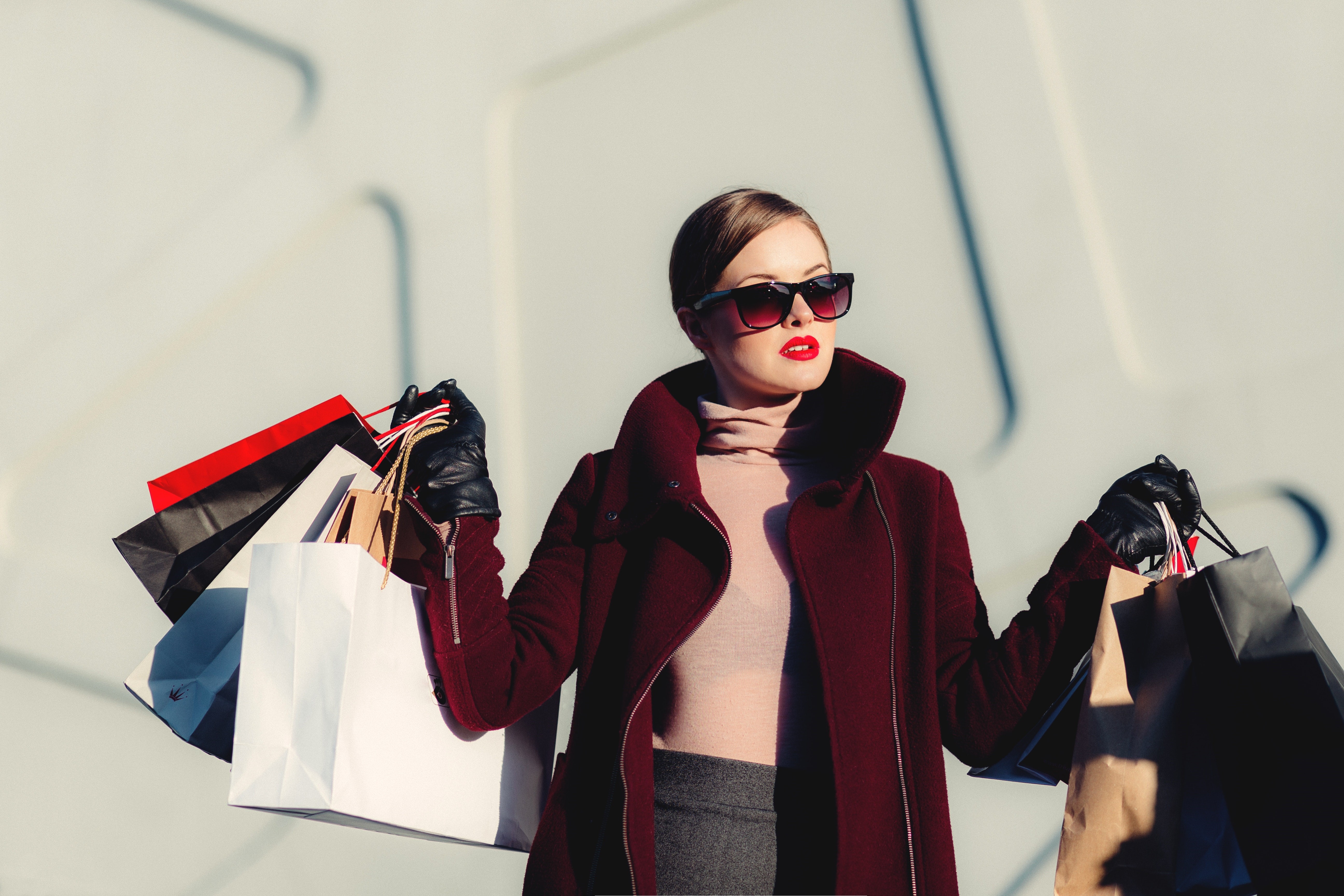 Dining and Nightlife
After skiing, dining is probably the most important part of a wonderful week in Courchevel! Whether you just splurge for one stunning meal, or you intend to spend the week sampling all that's on offer – we can guarantee you won't be disappointed with the gastronomy of Courchevel.
For the ultimate in luxury cuisine, Le Chabichou boasts not one but two Michelin stars – and certainly lives up to its impressive reputation. For on-the-mountain dining, we also love Le Pilatus, which serves traditional Savoyard cuisine in a cozy and inviting environment.
If it's a quick and affordable meal to fill you up ready for some more Courchevel adventures that you're looking for – then either Bouc Blanc or Le Bel Air are fabulous options that won't break the bank.
Then, of course, there's the wonderful nightlife of Courchevel. From upscale cocktail bars to cozy and warm pubs, there's something for everyone. To find out more, have a read of our guide to nightlife in Courchevel.
Special events
There's always something happening in Courchevel, so it's well worth checking the calendar to see what's on during your week in the luxury resort. Here are some of the special events which will be happening this season – can they make their way into your week itinerary?
Every Wednesday from 25 December to 23 March – night-time ski touring, with a different theme every week
31 December 2019 – New Years' Eve (read more about New Years' Eve in Courchevel here)
23 February 2020 to 5 March 2020 – International Festival of Pyrotechnic Arts
27 March to 29 March – French ski jumping championships
6 April 2010 to 17 April 2020 – Board and Video Game Festival (perfect for those holidaying with kids at Easter)
This is just a small taste of what is on offer this winter at Courchevel. We'd love to help you with your plans for a week in Courchevel, so why not contact A-List Villas today, and get started planning your dream stay?